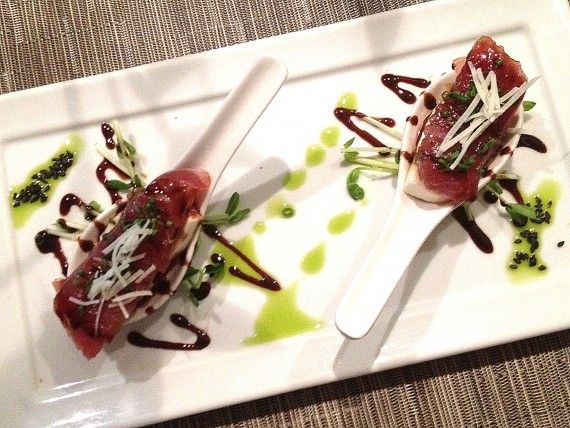 LFB MEDIA GROUP
If the quickest way to the heart is through the stomach, then a Valentines dinner at Koi in West LA should just about seal the deal. Along with dishes like yellow tail tartar, which have an aphrodisiac-like quality, Executive Chef Robb Lucasí unique offerings have a melding of flavors and unexpected balance of textures that make for great conversation starters.†Thatís something both first daters and long time lovers can appreciate.†
While the bar and patio make Koi a popular spot for business dealings and Hollywood hipsters, the fireplaces, candlelight and zen inspired dťcor definitely cater to the couple.†
The food can be described as Japanese fusion but there is a distinct eclectic California flair to its presentation.†Take for example Valentines nightís featured cocktail, the Koi Crush.†While itís less traditional then starting off with a sake, the tantalizing mixture of vanilla vodka, strawberry liqueur, pineapple, and cranberry topped off with a strawberry garnish make it the evenings unexpectedly perfect palate primer.
The white kiss roll, also off the valentines menu, is a work of art in both taste and presentation and is a refreshing and romantic start to the evening.†Of course, those familiar with Koiís signature crispy rice topped with either spicy tuna or peppercorn Kobe beef know itís not to be missed.†Luckily, while itís romantic to share one appetizer, splitting two is even better so donít be afraid to peruse the regular menu as thereís much to be savored.
For sushi lovers, the albacore sashimi on a bed of fried onions with ponzu sauce, tuna caprese and melt in your mouth salmon wrapped around a crispy mixture of onion, endive, avocado and lemon are culinary masterpieces. Those preferring their fish cooked will find the oven roasted snapper with habanero dashi salsa a delicacy not to be missed.
As for dessert, a valentines must is the traditional chocolate dipped strawberry which Koi delivers beautifully, but for the more adventurous, the blueberry crumble topped with a blueberry sugar bowl filled with vanilla bean ice cream is something memories are made of.
For more, visit†http://www.koirestaurant.com/
LFB MEDIA GROUP
Koi Crush
LFB MEDIA GROUP
Koi entrance