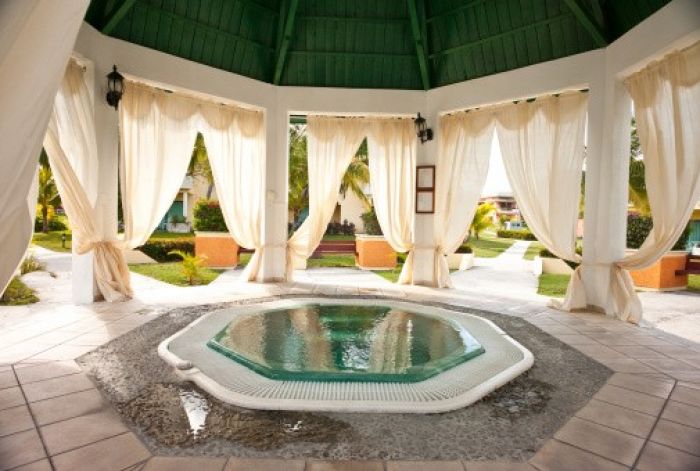 www.gettyimages.co.uk
A hot tub in the backyard is appealing to many people as it provides a place for relaxation after a long and hectic working day. Nevertheless a hot tub requires a lot of maintenance. If you enclose your hot tub within a gazebo, it could cut down the care required by protecting it from the elemental forces of nature. Moreover an enclosure allows constant use of the hot tub in snowy or rainy climate. It also accommodates a wide array of amenities. 
The design of gazebo varies from a simple roof supported by the posts to elaborate enclosed structures equipped with electricity. If you are planning to add a gazebo to your hot tub, you should consider a number of factors before installation. Always try to design your gazebo in accordance with the size and shape of your tub and the way you will make use of your tub. A simple structure will suffice if you make use of your tub for a couple of hours every week. On the other hand if you want to make your summerhouse entertainment focussed, you should consider additional features for making your guests feel comfortable.
Let's check out the tips for designing hot tub gazebo in your home:
Opt for comfy design
Most hot tubs consist of fuses, controls, pumps and plumbing connections. As a result while designing a summerhouse you should keep access to these significant parts. Try to design a gazebo which is large enough for accommodating the tub. You should also keep the provision of a seating area and a drying off area. Make use of the benches with hinged tops for storing towels, tub chemicals and accessories.
Get your desired building material
A gazebo is constructed with varied materials like metal, wood and plastic. Wood is the most common material to customize. Some good choices for wood include Oak, Cedar, Pine and Mahogany. The qualities of the Cedar act as natural insect repellent and offer a fresh smell in the area. This smell helps to mask the smell of hot tub chemicals. Make use of treated wood in order to protect your pagoda from moisture. Construct your gazebo from wood with an elevated floor in order that your tub could be set to flush the floor. You could also make use of lattice work on the sides of your gazebo facing the buildings or yards of your neighbors.
Paint your gazebo
Irrespective of the material you are using for your gazebo, add color to your backyard by painting your gazebo. Make use of colors such as brown or forest green to help the area of your hot tub to blend with the natural elements of your backyard. If you like to add a splash of color to your backyard, try to paint the gazebo with the help of a brighter color, such as sky blue or yellow.
Pick up a unique style
While designing a gazebo, you may like to decorate it with a fancy and elevated wooden structure. A pagoda could be of varied styles. You may design the enclosure with bamboo sides and thatched roof for resembling a hut and getting a tropical feel in your garden. Moreover you could opt for a Japanese pagoda style gazebo to add a soothing Zen element. If you have the passion for modern design, just stick to angles and clean lines.
Make attractive decorations
In order to make your gazebo look attractive, suspend decorative hooks for housecoats. Tuck a striking wicker washing basket in a corner for keeping dirty towels. Install an open-air shower for a quick rinse after dipping in the tub. Outdoor showers help to capture and store rainwater till it is needed. Place screens on your gazebo for keeping out insects. Hang curtains with waterproof fabric for maintaining the privacy. Do the wiring to your pagoda for installing a ceiling fan, mini fridge and lighting. Make use of a dimmer switch for the lighting in order that you could change the mood and place the ceiling fan on a rheostat for adjusting the speed. Try to install a sound system with an iPod docking station or remote speakers. You could design an over-the-top hot tub gazebo with a flat panel television as well as a DVD player in a cabinet.
Follow these tips for designing hot tub gazebo and relax in utmost luxury in the comforts of your own home.