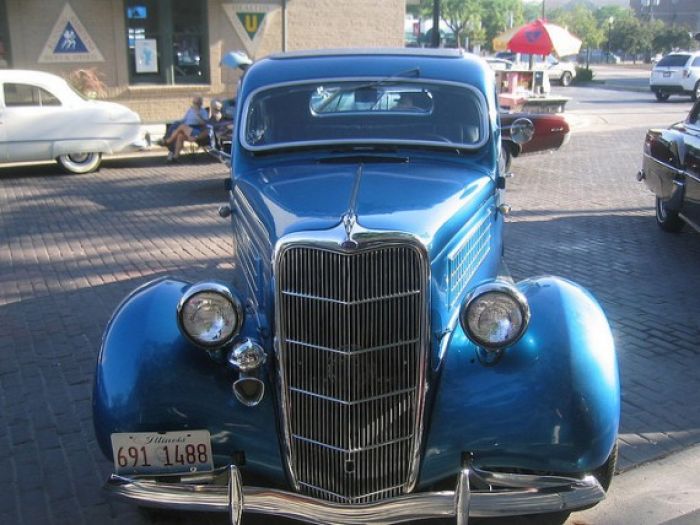 http://www.flickr.com/photos/j
Is there one vehicle you've dreamed of owning since childhood? Or are you a diehard gearhead that revels in the clean lines and classic styling of antique cars? For many wannabe antique car collectors there's one hang-up between them and owning the vehicles of their dreams and that is money. You don't need Jay Leno's bank account, massive garage space or sprawling connections to start your own antique car collection. All that's required to turn your garage into a car junkie's paradise is a little hard work, a small amount of luck and a whole lot of elbow grease.
Setting a Budget and Locating the Vehicles
Before you perform your first test drive or even scour the newspaper, it's crucial to establish a realistic budget. This budget must include the vehicle's price, licensing, insurance and potential future maintenance. Remember the cars are referred to as "antique" for a reason. The older the vehicle is, the more potential for breakdowns and trips to the mechanic. The rarer the model, the more difficult it will be to find parts. Keep these points in mind before blowing your budget on a car out of your price range.
Now that the budget's in place, it's time to start the search. Mixed in with the fashion magazines and newspapers at your local supermarket you'll find several "traders" or publications that feature private listings of antique cars for sale. Also hunt the internet for classic and antique car websites that feature listings or check out your local newspaper. Word of mouth is another way to find a particular model, so head to your local body shop, gas station or get to know your fellow gearheads at antique car shows.
Inspecting the Prospects
You've done all the necessary research and narrowed down your choices to the top two or three favorites. Before agreeing to any terms, take the car out on an extensive test drive. Take the word "extensive" to a whole new level by going over the car and in its history with a fine-toothed comb. Inquire about the number of owners, any past accidents, the oil change schedule and if the car contains any original parts. If you know a generator from an alternator, go ahead and inspect the car and its owner yourself. Otherwise, take the vehicle to an antique car mechanic to have it thoroughly looked over.
Restoring an Antique
Aside from the looks of envy the antique car receives as you drive it slowly down Main Street, the most satisfying aspect of owning a classic beauty is restoring the vehicle from a junker to a gem. If your intention is to restore a beater, walk into the process with a grain of salt. Realize that even minor restorations are potentially expensive undertakings, especially if the car is very old or extremely rare. If you have the tools, know-how and financial resources, consider purchasing a vehicle in need of extreme TLC. Otherwise, keep it simple and purchase an antique that only requires a new fan belt or windshield wiper blades rather than a radiator overflow expansion tank replacement.
Storage and Insurance
The car is purchased and you've enjoyed driving and displaying your mechanical beauty, now it's time to say goodbye and store the vehicle for the winter. If you have limited space at home, or your garage is already filled with lawn mowers and children's bikes, consider storing the vehicle in a friend's garage or storage unit. For multi-vehicle owners, renting out an entire warehouse is a feasible option to ensure the antique cars are protected against the harsh winter weather. Never assume your car will remain intact through the winter, even if you live in a semi-temperate climate. Antique cars require protection against the elements and potential invaders, including insects and rodents, so throwing a tarp over the vehicle simply won't cut it.
Just because your car was first manufactured before many automotive insurance companies were created doesn't mean it's exempt from your state's laws. Speak to your current agent and inquire about multi-car policies or if the insurance company offers special coverage for your antique.
There's one final point to ponder before purchasing the antique car of your dreams: the vehicle's potential resale value. Do your research before buying the car or putting any money into the restoration. You may wind up spending a small fortune on an antique car that isn't worth the price of scrap metal.
This post was written by Edson Farnell. Edson writes about various automotive topics. Many of his friends refer to him as the Auto Parts geek.