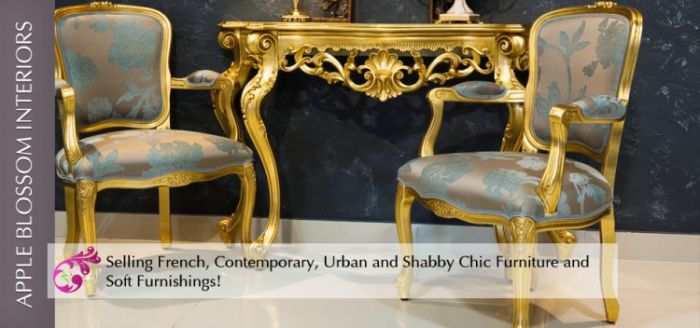 Furnishing and decorating your home can be an extremely fun yet frustrating process. After all, you get the opportunity to let your creativity run wild and this can be highly enjoyable. Yet, at the same time it can often be difficult to decide on what type of furniture you want and what sort of style you wish to go for. One style of furniture which has boomed in popularity as of late is that of French style furniture. People seem to fall in love with the unique and picturesque style of furniture this option possesses. In order to help you decipher on whether this type of furniture is the right thing for you, this article will provide further information as to character and style of this option.
The main advantage of this type of furniture is obviously its appearance. French furniture possesses a style to it which is very distinct and is filled with character. Therefore, you can guarantee that this is the sort of furniture which will add a wealth of personality and energy into the room in which it is placed. All in all, this style is very much suited to those who take great pride in their homes and consider themselves to be a bit of a fashionista. Despite the fact that you can buy French furniture from lots of different places, each item seems to possess an individual and unique quality which makes the furniture look as if it is one of a kind. Moreover it possesses an expensive and lavish quality to it which can instantly upgrade a room and make it look luxurious. A final point worth noting with regards to style is that French style furnitureis very much fashionable at the moment because it contains the vintage quality which is bang on trend.
Furthermore, because French furniture has such a distinct appearance, it only takes one piece of furniture to instantly enhance and change the vibe and mood of the room in question. This is great for those who are looking to revitalise a certain room but do not have the money to completely change the entire appearance. Moreover, whilst this may be a very specific style of furniture, there are actually lots of different styles and options available. This means that there is something to suit all tastes and all rooms in question.
An additional point worth noting is that because of the boom in the internet and online shopping, French style furnitureis a lot cheaper than it used to be. This means that it is something which is generally affordable to all, and thus if you look around online you are bound to find some fantastic deals. Nevertheless, it is also worth noting that whilst a cheap deal is attractive, it is important not to be blinded by the price. When it comes to products that you want to last for a long time and remain in top condition, such as furniture, you need to ensure that quality is high up on your list of priorities. All in all, a healthy balance between price and quality tends to be the best way to go.
All in all, it is not hard to see why French furniture is such a popular choice today. Its style and character is something so unique and beautiful, meaning you will find it very difficult to replicate this feeling through another style of furniture. Moreover, if you use the internet to your advantage then you will be able to find some great deals too.
Author bio –Emily Hall is a freelance journalist. In her spare time she likes to go shopping and socialise. For this article she used Apple Blossom Interiors as a resource. Therefore, if you need to know more on french style furniture you should visit their website.