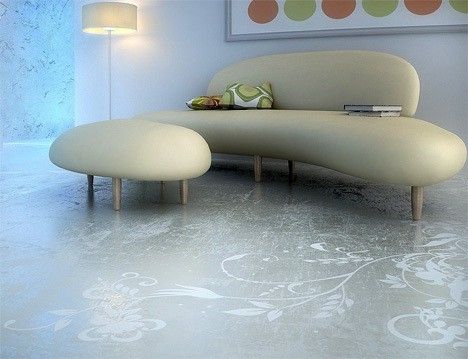 Carpet, tile and hardwood are two of the most common flooring options. However, there is no need to limit yourself to these options when choosing a floor covering. There are many other attractive and affordable options available. Two lesser-known floorings are polished concrete and bamboo. Both of these choices offer their own unique appeal.
Polished Concrete
One of the main features of this type of flooring is its ability to be crafted into different patterns and looks. Homeowners may choose to have the polished concrete look like wood, stone or any other material. It can also be tinted to any color shade. This makes polished concrete as flexible and personable as the more common options such as carpet. Other features include:
• Epoxy coating is applied to the concrete during the manufacturing process. This creates a brilliant shine and reflection that is similar to polished ceramic.
• Polished concrete has natural insulating abilities, making it an energy efficient choice. Light will warm it in the winter months and moisture from the ground will cool it during warmer weather.
• Other materials can be inserted into the concrete during the crafting process. Examples include shells, jewelry, unique tiles or any other personal item.
• Because of its durability, the flooring will never need to be replaced unless desired.
Bamboo
Bamboo flooring is steadily growing in popularity, and for good reason. It is environmentally friendly because it is all natural and comes from a sustainable source. It offers that warm and natural feel while being able to stand up to high traffic, children and pets. Other advantages include:
• Bamboo is durable and resilient. It is rated harder than red oak and maple.
• There are many different shades of bamboo available. They can range from deep brown to almost white. All have a distinct look because of the darker bands of color spaced along the length of the reed.
• It is resistant to warping, curling and gaping because it is laminated.
• Bamboo is naturally moisture-resistant. This makes it a distinguished alternative to tile for kitchen and bathrooms.
• Installation is easy and simple and does not require professional assistance.
Advantages of Choosing Polished Concrete or Bamboo
Both of these types of flooring offer durability and uniqueness. Polished concrete and bamboo are able to withstand the daily use of a busy family. In addition, they both have a sleek, attractive shine that will lend a personalized and unique look to any home. Neither flooring option will need replaced for years, if ever, unlike traditional carpet and tile.
Compare and Contrast
• Both are extremely durable and strong.
• Both add beauty and interest.
• Both are environmentally friendly.
• Polished concrete is more flexible in terms of creativity and uniqueness.
• Bamboo is warmer to the touch because it is made of natural wood.
• Bamboo flooring can be installed by the homeowner.
• Polished concrete requires a specialized skill set to install and will require a professional installation.
Choosing what type of flooring to install in any home is a personal matter. Style, needs and personality will all play a factor. Bamboo and polished concrete are two choices that will fit with almost any family's need. Knowing the advantages and features of each type of flooring will help you make the right decision for your home.