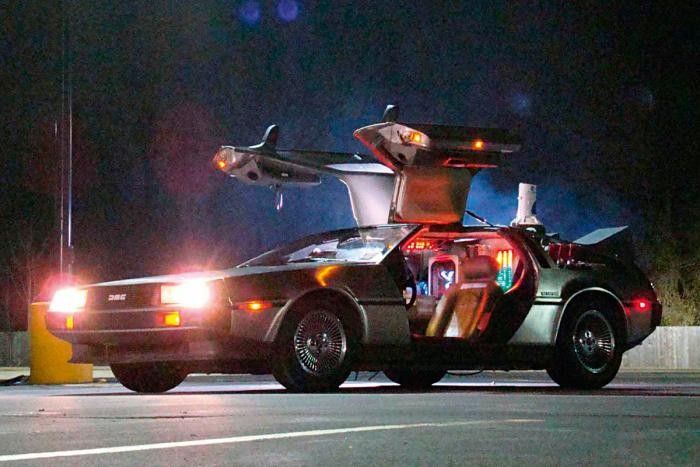 n/a
There are plenty of ingredients that go into making a memorable movie. Sometimes the plot is superbly written, or the director has assembled a cast of excellent actors. Other times, the setting orr location make the film interesting. In the fictional movie world, even cars can make a film memorable. Whether they were ahead of their time, looked awesome or simply stole the show as a major plot point, here are five of the top movie cars of all time.
The 1981 DeLorean DMC-12 in "Back to the Future"
Let's face it. Without the incredible DeLorean, "Back to the Future" wouldn't be the classic film that it is today. Although the car's speed of 88 was the magic number in the movie, it certainly wasn't all that impressive compared to even most of the cars on the market today. Thanks to creative thinking on behalf of Doc Brown and the handy flux capacitor, however, this car made history. Believe it or not, buying and even insuring a DeLorean isn't obscenely expensive. Most DeLoreans from this time period are valued under $20,000, and those that are maintained well and driven regularly can be insured for less than $1,000 per year. Of course, that only applies if you promise not to travel through time behind the wheel.
The 1961 Ferrari 250 GT in "Ferris Bueller's Day Off"
Every teenager's dream was to get behind the wheel of the bright, shining red Ferrari 250 GT in the hit film "Ferris Bueller's Day Off." There are just a few dozen of these incredible cars left on the market today, and each one carries a significant price tag. In fact, you don't even want to think about test-driving a 1961 Ferrari 250 GT unless you have a few million tucked away somewhere safe. Insurance takes your cost to another level since traditional insurance providers can't come close to offering a policy large enough for the car's total value. Specialty providers can offer coverage at a cost, but be prepared to pay upwards of $75,000 a year just for insurance alone.
The 1963 Volkswagen Beetle in "The Love Bug"
This classic Disney film from the 1960s is definitely a part of what drummed up interest in the Volkswagen Beetle during that decade. Affectionately named Herbie, this vehicle was depicted as far from ordinary. It inspired several sequels and even comic books. If you drive a Volkswagen Beetle today, average insurance costs might run around $1,100 per year depending on where you live, your credit score, and other factors taken into consideration by insurance companies. Comparing car insurance companies online could help you get the best rate on your very own Herbie.
The 1964 Aston Martin DB5 in "Goldfinger"
There is no way this list could be complete without mention of at least one car made famous in a James Bond movie. The world's most famous spy, whether played by Pierce Brosnan or Sean Connery, can always be found in an impressive vehicle. In "Goldfinger," that car was the 1964 Aston Martin complete with 182 horsepower and a six-cylinder engine. If you're lucky enough to buy this car yourself, even without the bulletproof glass or machine guns, you'll end up paying close to $4,000 a year in car insurance. That's with the understanding that as a classic car, your time behind the wheel would be limited to infrequent short trips.
The 1968 Ford Mustang GT 390 in "Bullitt"
If you're a fan of classic movie car chases, then you have almost certainly seen "Bullitt" and its famous seven-minute chase scene through the streets of San Francisco. Although you could never be quite as cool as Steve McQueen behind the wheel, you could own a newer Ford Mustang GT and end up with insurance payments of around $1,200 per year.

In some movies, the cars should be billed as supporting cast members because of their style and influence in the plot. Each of these iconic cars has made its way into popular culture over the years.
n/a