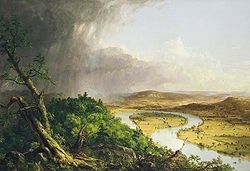 thomas cole
You have heard of Leonardo Da Vinci, Michaelangelo, Rembrandt and Van Gogh. If you were to see a print of the Mona Lisa or the statue of David or the painting Starry Night chances are you would recognize them and could even identify the artist who created them. Now, how about Albert Bierstadt? Thomas Cole? John Frederick Kensett? The Hudson River School? Most Americans have never heard these names and would be surprised to find out that these are some of our early American artists.
The Hudson River school was a mid-19th century art movement made up of a group of landscape painters who set about painting our American landscapes; The Hudson River Valley, the Catskills, Adirondacks and later paintings were focused on areas out west as the country expanded.
A new art museum in Bentonville, Arkansas entitled Crystal Bridges was built on a 120 acre site and designed to showcase our American art treasures. From Rosie the Riveter to Winslow Homer's The Return of the Gleaner and the new addition of a Hudson River School painting, Kindred Spirits by Asher B. Durand which was purchased from the New York Public Library for $35 million, Crystal Bridges is a mecca of American art. A four year partnership has just begun between Crystal Bridges, the High Museum of Art and a few other collaboratoring museums. They will be creating exhibits and sharing art to travel between the museums, exploring the birth of American landscape painting.
If you can make it to Bentonville,Arkansas, Crystal Bridges would be the most spectacular place to begin to gain knowledge of American art. Art is a beautiful part of our culture and history, one which we cannot afford to lose. Crystal Bridges has begun to be a bridge for our entrance into the history of American art.