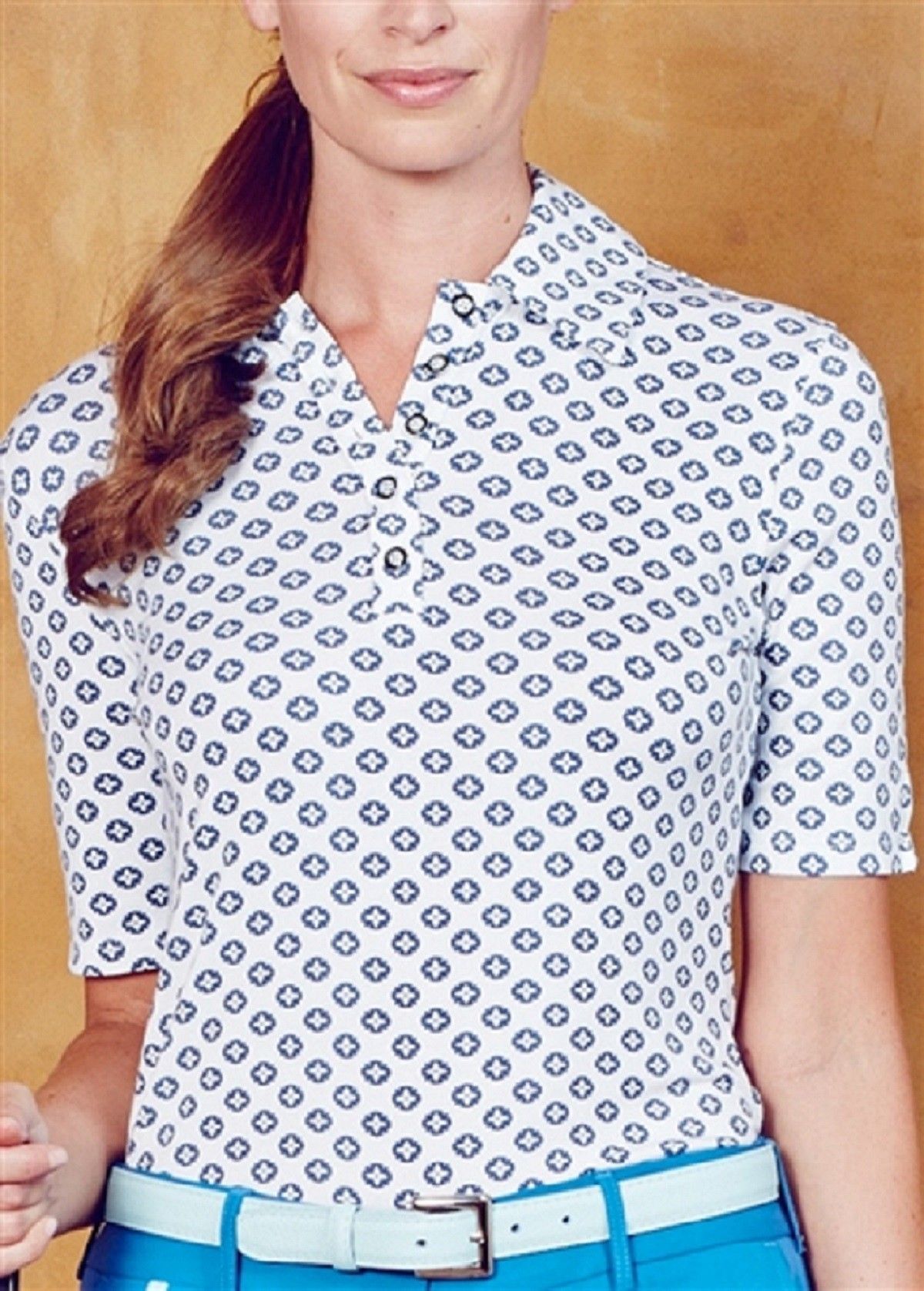 Lizzie Driver
We are the first to admit that we love receiving gifts any time of year and some of the best ones are given for no special reason. If you would like to surprise her with a gift of love, here are some great ideas that are sure to put a smile on her face any day of the year:
Golf season is officially here and no one knows golf style better than Lizzie Driver. The women's off-course apparel line brings style and comfort to those who love being on the links as much as we do. Whether she has a meeting at the country club or a party to attend at a family gathering, she will look stylish and beautiful. We love the Candy Sun Golf Pro short sleeve polo that is machine washable. The blue and white shirt features longer, to-the-elbow sleeves to keep her warm on cooler days with notched cuffs and a super soft fabric. A placket of five black and white buttons frames the neckline of this women's golf polo which plays well, but goes anywhere.
Priyana MD
With the warmer weather comes the need for sun protection as well as repair against sun damage. We recommend
PriyanaMD
's recently launched product Damage Control C + DNA Repair. The product is made with naturally occurring stem cells, antioxidants and peptides as well as DNA enzymes designed to hydrate the skin. Apply daily to the face and neck to reduce the visible signs of aging and you will quickly notice a reduced amount of dark spots and brighter appearance.
OROGOLD
When it comes to cleansing the skin, if her face gets oily in the summer like ours, OROGOLD Cosmetics is there to the rescue. The luxury skincare line has some of the best ingredients in its products, including vitamins, minerals, and botanicals with the opulence and luminosity of real gold. If she hasn't tried this line yet, she is in for a luxe treat. The 24K Oil Control Cleanser is gentle enough to be used daily but strong enough to rid the skin of impurities. Made with natural plant extracts, the cleanser conditions the skin as it cleans, leaving it smooth, even and shine-free.
Carita
Finish off her fresh new look with CARITA Genesis of Youth Nutritive. We love the rich, luxe formula designed to leave the skin dewy and more nourished. If she has dry skin, this is just what she needs for added hydration.In addition to the exclusive Lift Origin Complex, the Jeunesse Originelle Nutritive Lift-Comfort Firming Cream uses a powerful combination of Honey Extract and Camellia Oil to lift, tighten and nourish the skin help re-sculpt facial contours while restoring the skin's barrier.
LUX HAIR
Women love to change up their hairstyles every now and then but sometimes, she might not love her new look as much as she thought she might. To ease into a new hairdo, we recommend LUXHAIR NOW's clip-in bangs by Sherri Shepherd. This is the fastest way to a totally new look by simply clipping in bangs of real hair.
Blowpro
When it comes to styling her hair, every woman needs a great hairdryer. We love Blowpro's Titanium Salon Dryer. It doesn't get more powerful than this dryer that uses Pure Air Technology, featuring six LED white lights to ensure clean airflow while decreasing bacteria and buildup. The 1875-watt dryer comes with a super long 11 foot professional cord and a cool shot button to lock in the style. What makes this dryer even better is the reduced time it takes to dry her hair. Instead of a tedious 20 minute hair process, it will now take her less than 10 minutes to achieve a beautiful look without the use of a flat iron or curling iron. You can go from straight to curly hair in just a few minutes.
Krigler
Every woman needs a little relaxation in her life. If she is pressed for time and isn't able to make it to the spa as much as she would like, it's time to bring the spa experience to her at home. One of the best ways to do this is with a KriglerDolce Tuberose 43 Candle. This gorgeous scented candle inspired by the Italian countryside will have her quickly escaping the everyday hustle and bustle with a scent of tuberose, rose wood, ylang yalng and geranium.
Bracketron
If she is always on the go, she will love Bracketron's SmartSling Bag that keeps her phone, iPad and tablet protected from everything else she likes to carry. The bag is lightweight and contains multiple storage compartments that she can easily take it with her on the go. We love the brightly colored separate silicone phone holder pocket (available in pink or blue) that provides easy access for the phone.
Ellen Vicius
Most woman can never have enough handbags. If she loves them as much as we do, she will love the Portuguese brand Ellen Vicius, which has recently expanded its concept. This summer, they have created a beautiful collection that includes, colorful, exquisite bags that are now on sale to celebrate any gift giving occasion.