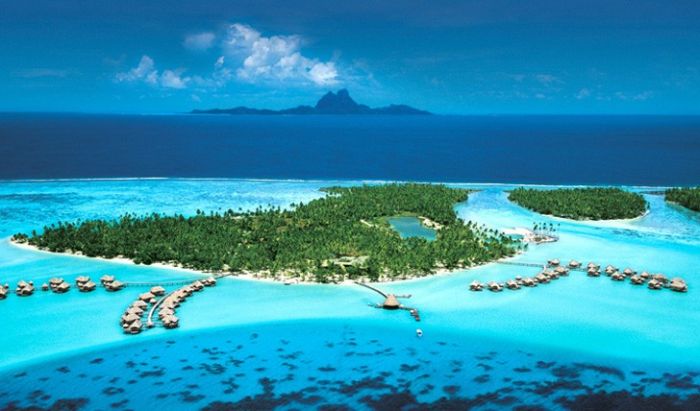 n/a
French Polynesia. Sounds familiar doesn't? Isn't that the group of islands in the South Pacific that features Tahiti and Bora Bora? Well, yet it is, but you might be surprised to learn that French Polynesia is actually made up of five separate archipelagos – one of coral islands and four of volcanic islands that are dotted over an astonishing four million square kilometres of the South Pacific Ocean. Clearly an island-hopping tour of French Polynesia that takes in every island will take significantly longer than your average fortnight's holiday, but don't panic there are more than enough island paradises to be explored among French Polynesia's main islands, and hopping between them is easy.
Touching down in Tahiti
Everyone gets a taste of Tahiti since this is the islands' arrival point. The most developed island of French Polynesia, visitors typically treat Tahiti as little more than a transport hub as they make their way to resorts on other islands. This is a pity since Tahiti is abundant in natural beauty, is a haven for surfers and, between July and October, whale-spotters, and is home to the islands' charming capital city – Pape'ete – which rewards further exploration if for sourcing fabulous souvenirs or sampling authentic Polynesian 'street food' in the lively municipal market.
Moving on to Mo'orea

Just sixteen kilometres wide Mo'orea packs plenty of paradise into its compact area. Easily reached from Tahiti by an inter-island ferry or plane, Mo'orea is regarded by many as the most beautiful island in French Polynesia's 'Society' archipelago. Inland, small mountains are hugged by lush rainforest with various walking paths enabling visitors to spot exotic flora and fauna. Ancient jungle temples also await discovery, but for those more eager to relax than explore, Mo'orea's surfeit of idyllic, palm-fringed white-sand beaches - such as the eternally-popular Temae Beach - and warm, clear waters perfect for snorkelling do not disappoint.
Hanging out in Huahine
Largely undeveloped in terms of tourism and so laid-back it's virtually horizontal; island-hoppers can reach Huahine in a thirty-minute flight from Tahiti. Huahine is effectively two islands (Nui – 'big' and Iti – 'small') joined by the narrowest strip of land and has only eight small villagers to its name. The island is fertile and locals grow bananas, melons and vanilla here. As with many of French Polynesia's islands, Huahine sits in its own beautiful lagoon and boasts sublime beaches. This is the perfect island for visitors seeking to retreat from the haste and hassles of modern life and slip into a lower gear where sun-kissed days drift slowly by in a carefree kind of way.
Relaxing on Ra'iatea

The second largest island after Tahiti and 'centre' of the archipelago known as the Society Islands, Ra'iatea is also regarded as the most sacred island in the South Pacific and was the epicentre of religion and culture for the ancient Polynesians who dwelt here a thousand years ago. Ra'iatea's stunning mountain landscape holds a flower so rare that it cannot be grown anywhere else on the planet; the Tiare Apetahi. Steeped in Polynesian legend, the island can be explored on horseback and inland, winding through the heart of verdant rainforest a boat trip can be taken along the Faaroa – French Polynesia's only navigable river – and out along the island's stunning coast.
A taste of tiny Taha'a

Ra'iatea's close neighbour is the tiny island of Taha'a, which is the centre of French Polynesia's vanilla production industry thanks to the fertile soil of its mountain valleys. Pearls are also farmed on Taha'a and the entire island and its charming, traditional villages are easy and enjoyable to explore by car or bicycle. Naturally, the beaches and diving and snorkelling opportunities on Taha'a are exceptional, but little can beat reclining in the sun and drifting away as the heady and gorgeous scent of drying vanilla pods fills the warm air.
There's nothing boring about Bora Bora
British explorer Captain James Cook was on the money when he described the French Polynesian island of Bora Bora as 'the pearl of the Pacific'. Another destination easily accessed by island-hoppers, Bora Bora epitomises the sort of chilled-out desert island that Robinson Crusoe would willingly sink a ship to be marooned on.This 7 night tour encompasses Bora Bora and Tahiti and provides a good way to see both islands in a short trip.
Set in a stunning turquoise lagoon, Bora Bora exceeds the wildest dreams of snorkelers who can get up close and personal with the shoals of iridescent exotic fish, eagle rays and manta rays that swim among the island's colourful and unspoilt coral gardens. Such is Bora Bora's natural beauty and tranquillity that many of French Polynesia's most exclusive resorts are based here, but the divine beaches and lagoon, presided over by the impressive 2,300-foot high volcano Mount Otemanu, are there for every traveller to enjoy.