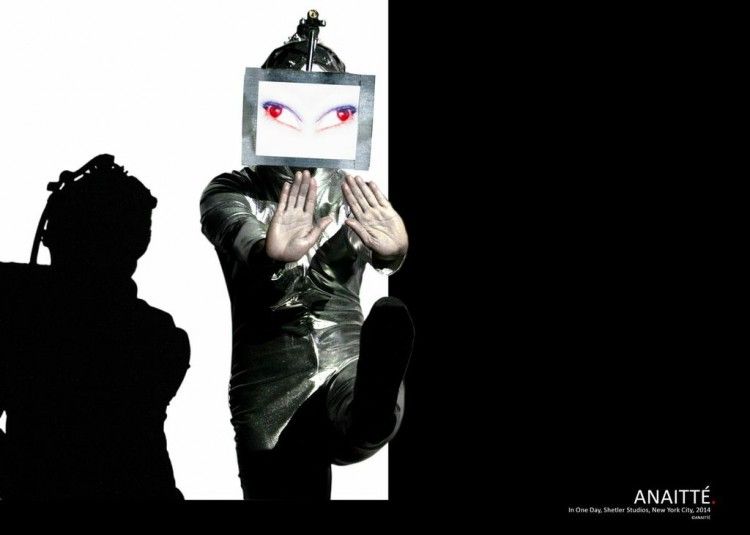 Anaitté
It's not every artist that creates a new art form, but Anaitté Vaccaro isn't just any artist. She is the creator of "Digital Scenography," a term she coined for her unique art form. Combining digital artistry with music and imagery, Anaitté's art is lighting up concrete jungles from Puerto Rico to Hollywood. Infinitely creative and in high demand from major resorts and companies like Hyatt and Microsoft, Anaitté's digital scenography has been featured at music and media events as well as in hotels and resorts. An artist from birth, her professional career has taken off over the past decade, thanks to her creativity. Anaitté took time off from jet setting around the world to talk about the roots of "digital scenography" and much more.
When did you begin working as an artist? 
My family has stuff I've created since I was 6, so creating- since I was very young. Professionally, earning a living, was at 19 years old when a Gallery (Galería Prinardi) picked up my work.
You coined the word "Digital Scenography" to define your work.  How did you come up with that term?
A requirement for completing my MFA at Savannah College of Art and Design, was a thesis. I was very clear my theme would be about my work. Researching all sorts of technology applied in art and performance for my thesis, I came up with the term. In the book "What is Scenography?" by Pamela Howard published in 2001 she exposes the origin of Scenography. It was the word that Richard Wagner produced to define his work, meaning - a total work of art. I did not want to be cornered into a niche as a projectionist, or multi-media artist, or set designer, new media, animator, content creator, director, interactivity, producer, etc. I felt Scenography was a perfect term. So, by pairing it with Digital, I created the term I felt was most appropriate for me as an artist, defining Digital Scenography as: a total work of art with the integration of the digital medium.
Do you feel visual artists have had the most influence on your work, or have artists in different fields also impacted your work?
Artists in different fields have inspired me. Yes, of course visual artists have been of great interest to me...painting, sculpture, photography, film…but my influence comes from all over. Music is a huge influence. Choreography, literature, poetry, architecture, puppetry, magic, reporters, passer-bys, a child, a man or woman, etc… Influence comes from all over, not just from artists.
How has your art changed throughout the years?
It keeps spreading out into so many different fields. New experiences, newly developed skills, newly adapted points of view, etc...They all find their way into fruition. I started painting on canvas, then into integrating the digital medium to make the painting come to life, then I worked on my undergraduate thesis concept- Virtual Walls, then into performance, then temporary installations, then permanent installations, Photography, Portraiture, Digital Scenographic pieces sold in Galleries, etc… and to all this- the Digital Scenography applies perfectly.
What are some of your most recent projects?
One of my latest projects titled Boscaje Iluminado, just received Live Design's Excellence Award. I have just completed a new permanent installation for the Hyatt Place Manatí's Casino Atlántico in Puerto Rico titled Gota A Gota. Just recently I created an immersive installation for a Microsoft event in which I converted a ballroom into a breathing rainforest. Also, I have an ongoing production of my projection box series.
Does you process change depending on the work, or do you have a basic processes you use?
Mmmm…I would say that even though each project is unique in its own way, with its own demands and considerations, I have certainly developed a base standard approach to all projects that seems to work nicely for me.
How do you think digital media is transforming the art world?
Digital Media is transforming the art world by appealing to a much broader audience. It provides the art world with a whole, new, vast territory to present, appraise, and exhibit that speaks to not just an elite few. It also brings the art world into people's lives and homes with so much ease. It provides the possibility of an instant, universal, back and forth dialogue and participation with those who are interested. It also presents new technical challenges of presenting and preserving.
The Internet has had a profound impact on the worlds of publishing and music, how do you see it transforming the art world?
Precisely your premise for this question applies to all "worlds." Micro worlds, cult followings, niches are being able to sustain themselves without having to climb the massive walls of "mainstream" channels.
Do you feel there is an overall thematic continuity to your work?
The Surreal.
What are some upcoming projects you're working on?
My showcase titled, Dwelling in Minutia, which is composed of a series of short stories told through Digital Scenography, is being featured at the Galvin Fine Arts Center this September. The Figge Arts Museum is also presenting me, and my work, that same week. The Festival Internacional de Santa Lucía has commissioned my work to be presented in Monterey, Mexico from September to October, and there are a few other projects currently being developed for October.
Anaitté has a lot going on and is constantly creating and being commissioned for new works. To stay updated on her newest projects, visit http://www.Anaitte.com, and http://www.boscajeiluminado.com. 
Anaitté
Anaitté