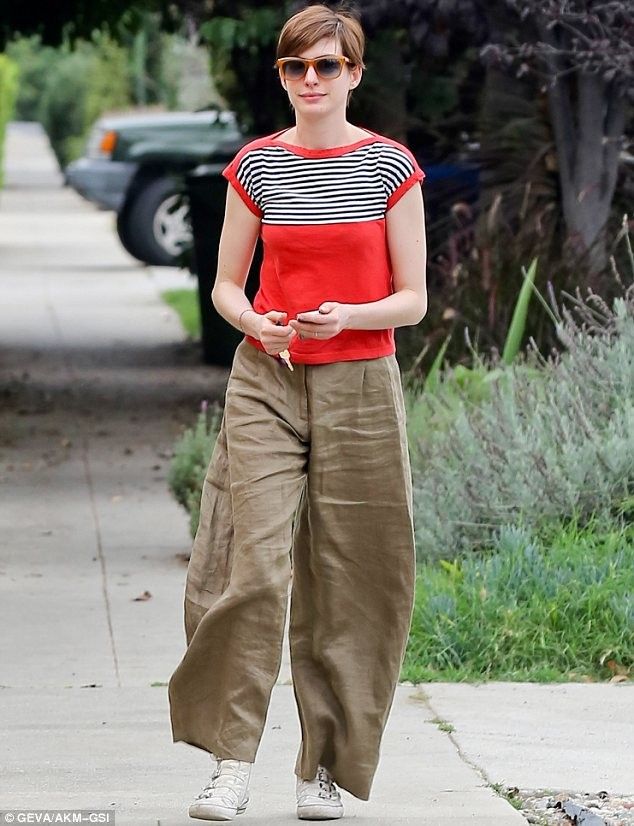 GEVA/AKM-GSI
As far as geek-chic goes, Anne Hathaway was pretty darn close. The orange top with a dash of black and white was a good base, and the over-sizedsunglasses matched well with the top. Problems started with the pants, for though the color was spot on the extra fabric flapping in the wind turned this geek-chic ensemble into a parachute – hardly chic. But close.


She usually plays it safe when it comes to her day-to-day style.
But Anne Hathaway decided to take a fashion risk for an outing in Beverly Hills on Wednesday.
And unfortunately for the actress, the bold move just didn't pay off.

Anne went for a Seventies look in a pair of extremely wide-leg olive coloured trousers that fell to her ankles.
While the 30-year-old is very slender, the bottoms swamped her frame and did nothing to flatter it.
Anne teamed the retro trousers with a red T-shirt which had a black and white panel across the chest. (Read More)