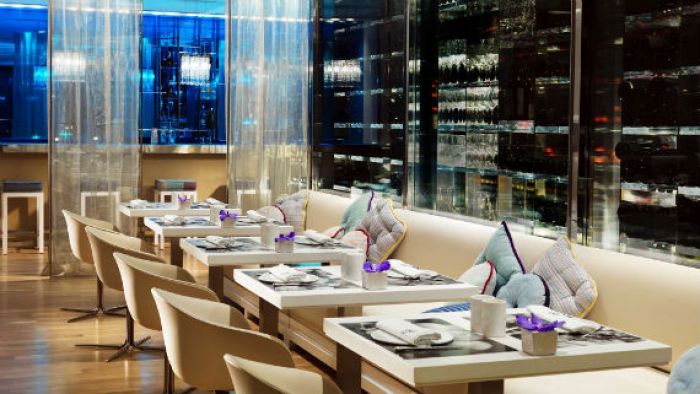 Hotel Arts
BARCELONA, SPAIN, (April 16th 2012) – On Tuesday April 17th, Two Michelin-starred Arola Restaurant --located at the 5-star Hotel Arts – is offering a prestigious gourmet dinner accompanied by an exclusive wine pairing hosted by Laurent-Perrier. The menu is designed by talented Chef Miguel Ángel Mayor and the wine pairing will be presented by sommelier and brand ambassador Nicole Snozzi alongside Arola's sommelier, Joan Arboix.
In commemoration of the bicentennial year of the legendary champagne house, Laurent-Perrier will be featuring some of its best creations including Grand Siècle, Ultra Brut, Demi-Sec and Cuvée Rosé. The menu for the evening includes five courses each carefully planned to highlight the flavor of the champagne it is to be paired with. Menus are priced at 95 Euros per person, excluding vat.
About Arola Restaurant
Since 1997, Award-winning Chef Sergi Arola has swiftly moved up the culinary rung with his imaginative, creative cuisine. Following the valuable experience gained at his first restaurant La Broche in Madrid, the world-renowned chef now heads two signature restaurants: Arola in Barcelona and Arola Gastro in Madrid. Both restaurants proudly boast two Michelin stars respectively.


About Laurent-Perrier
Laurent-Perrier was founded in 1812 and had gone through numerous inceptions before being bought by Mary-Louise Lanson de Nonancourt in 1939. To this day, the Marie-Nonancourt family retains the majority ownership of the company. The family's philosophy is that life is meant to be enjoyed, and instills this belief in the quality champagnes that they produce. Laurent-Perrier offers a wide range of fine Champagnes to suit all palates and occasions; confirmed by their current partnership with Relais et Châteaux as well as their presence at the Academy Awards event in Los Angeles.
For more information or to book this event :http://www.hotelartsbarcelona.com/es/Promociones/Cena-Laurent-Perrier-en-Arola