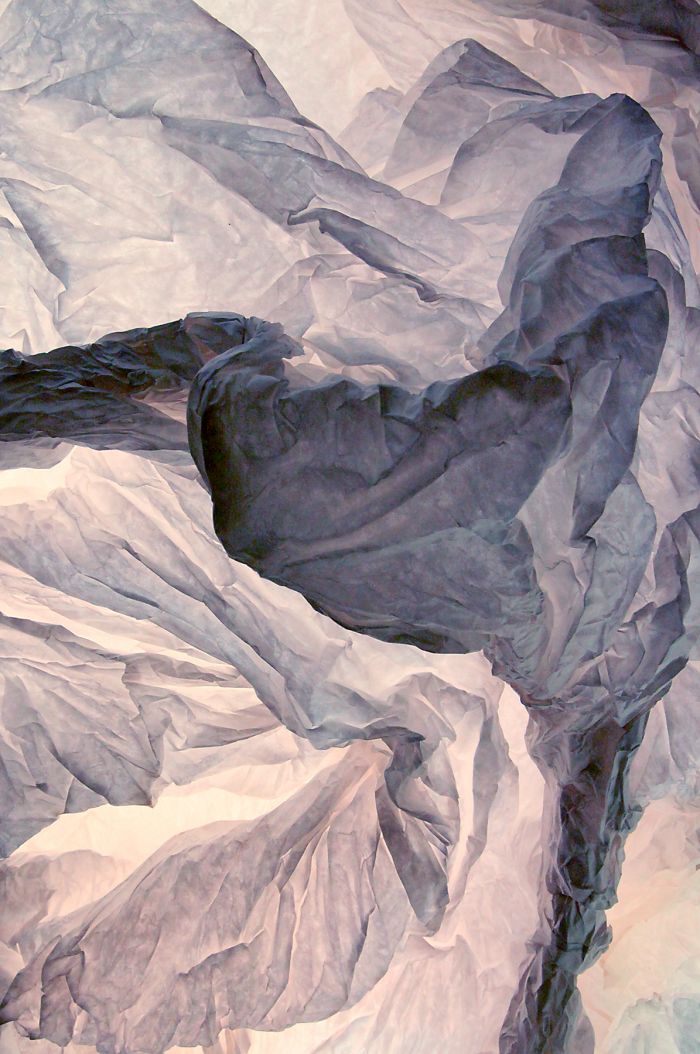 Photos Credit: Christophe Piallat
In his former life, Christophe Piallat was a travel and documentary photographer. As an artist, he has assimilated the tools and techniques that he learned as a photographer and now blends photography with painting, sculpture and installation, engaging a unique beauty of vision through cross-hybridization. Christophe recently sat down with JustLuxe and shared the inspiration from his many travels that inform his paintings, photographs, sculptures and more.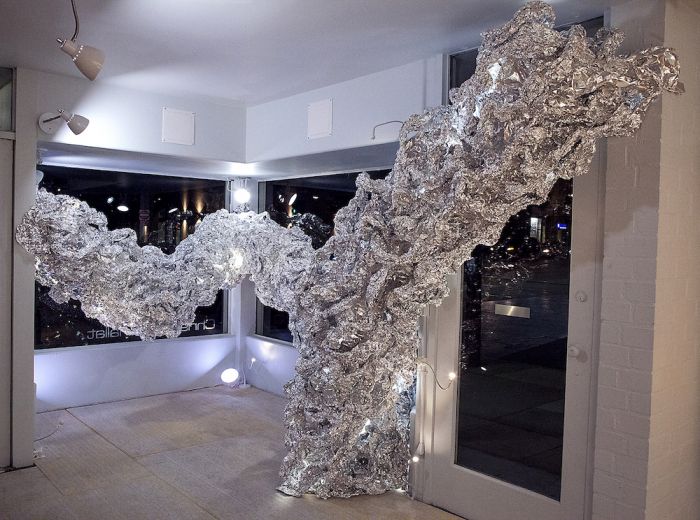 When did you begin working as an artist?
In 1997, I traveled around Asia, primarily India, for six months, photographing the people I met in the small towns of India's northern states. The portraits I took really solidified my connection to photography, and the medium became my instrument for understanding and connecting with the world. For me the camera became a way to capture emotion, intensity and vulnerability. As someone who has always stared intently at the world's details, India truly elevated that practice to the realm of art. My background was as a stagehand, building sets for movies, opera, and theater; it gave me an appreciation for working with my hands and introduced me to the world of physical illusion. I suppose it was only natural to bring sets and photography together. Photography as a medium continues to inspire me in shaping both natural and artificial memories.
You create sculptures and installations as well as photographic works. How do you shift between the mediums?
First I build a model of a "light canvas," which is made solely for the camera. I make them to understand how light interacts with different materials. I primarily choose everyday household items, because I love how they can look like trash and magic simultaneously. I then 'sculpt' the light and gradually adjust the materials, photographing the developments. The camera has an instinctual way of seeing things you didn't realize were there. This back-and-forth process goes on for a while, until I understand what each particular canvas is trying to say. If the canvas is especially profound, I will install it into a space as a large-scale installation. I look for spaces that have interesting architectural elements as well as being practical installation sites. Each installation represents a natural formation with very unnatural qualities. After the installation is complete, the photographic process begins again. In recording all of the installation's details, the prints become the sole documentation of its existence.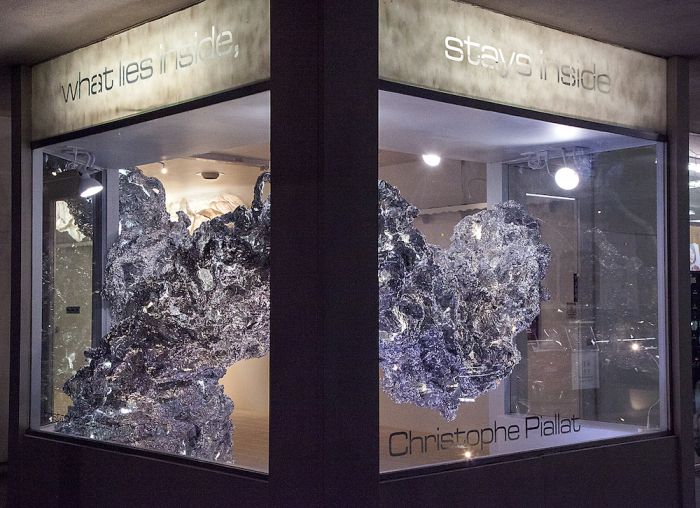 Do you feel your relationship with each medium is different?
Each medium has a different physical interaction, but to me they are similar, symbiotic and essential to each other. Whenever I feel like I've exhausted one, I can turn to another.
What mediums do you use in your sculpture and installations?
Set design, photography and painting.
Your installations are very 'fantastical,' and have a loose, organic look, but are also rigid and structured. Where do you find yourself drawing inspiration from?
Nature, science fiction, perceptual science.
How long does it usually take to 'set up' an installation? Do you have to keep the setting in mind when planning an installation?
It usually takes from one to three weeks to build an installation, depending on its scale, building surface and available lighting sources. The shape is always dictated by the space. I look for a path for the piece to follow and utilize natural light when I can (i.e. windows, doors, existing light fixtures). I have a general idea of what I am going to build, but like jazz, there are constant changes, adaptations, and improvisations that are made. I don't like to be too fussy when sculpting the paper. I want to be fluid and surprise myself. Whenever I feel like I'm spending too much time on a particular detail, I move on.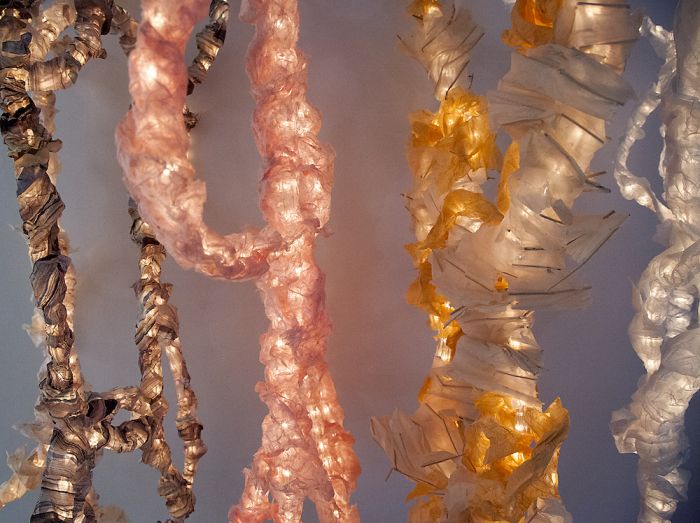 Can you tell me about some previous exhibitions you've had?
My graduating exhibition at the San Francisco Art Institute opened the door for all subsequent shows. In 2009, my paper and light installation took over an entire corner of the Herbst Pavilion at the Fort Mason Center in San Francisco. It climbed a wall to a mezzanine, where a 15' tower of paper loomed over audience members, along with another paper tower on the ground. That led to a 60', four-panel window display at the San Francisco Museum of Modern Art. From there I have been selected to exhibit at several biennials in Europe, most notably at the 2010 Holland Paper Biennial and the 2012 Santorini Biennial.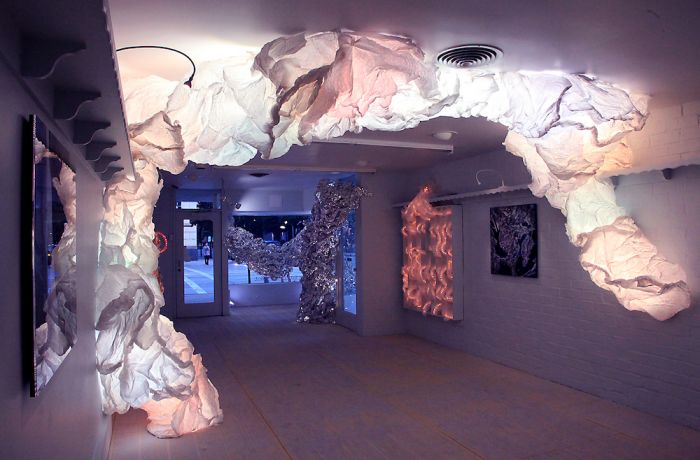 You have a couple of shows coming up. Can you tell me about them?
This September I will be displaying a large scale paper-and-light installation at the Lumina Light Festival in Caiscas, Portugal. I will be installing in the 12th century Cathedral Igreja dos Navegantes for a three-night show, along with light artists from all over the world.
This past September, I displayed a large scale paper-and-light installation at the Lumina Light Festival in Caiscas, Portugal. I installed in the 12th century Cathedral Igreja dos Navegantes for a three-night show, along with light artists from all over the world. I currently have a show running in Pasadena, California, "What Lies Inside, Stays Inside." It will be open until December 1st and we will be having a Fall Sol Night reception on October 13th with a few new installations I'm working on." You can RSVP to "What Lies Inside, Stays Inside" here.