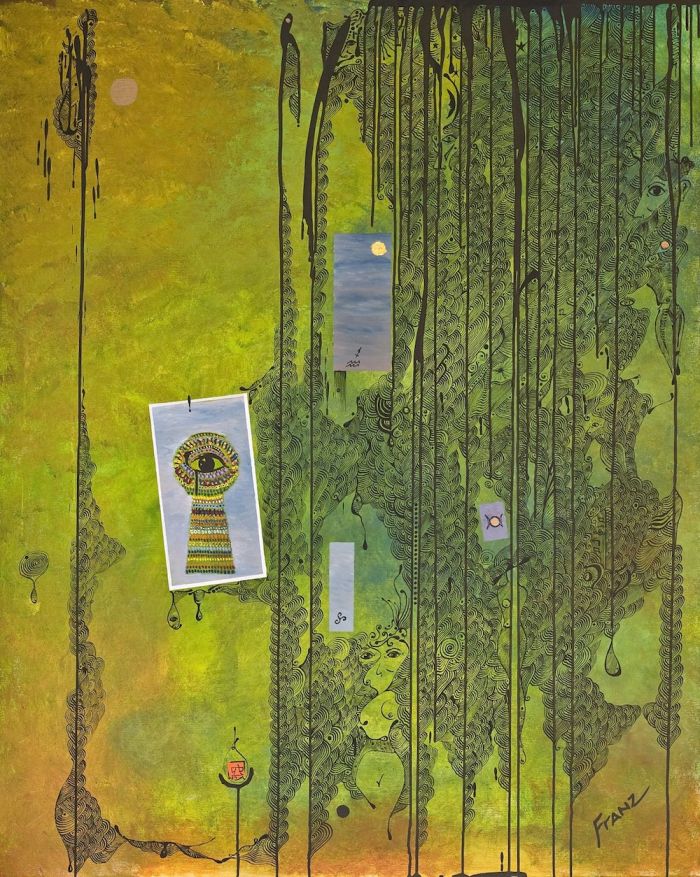 Photos Credit: Franz Fox
Artist Franz Fox may not remember every detail of his family's migration from Cuba to the United States, but he grew up hearing the stories which he has used as some of the fuel for his painting. During travels to England, France, Italy, Spain, and Holland, he honed his art through his studies of landscape and architecture. Fox, who apprenticed with several master artists in Paris and Malaga, has created his own style of painting, which he refers to as "neoplasticisty" for the mixture and variability of elements.
Visual Impact
When did you begin working as an artist?
I began working as an artist around 2002.
You and your family migrated from Cuba to the US, just before the Cuban missile crisis, what type of impact did that have on you?
I was very young and have no memories of the actual migration. The impact it had was defined by the stories and memories of my family members. My father's brief incarceration by the Cuban government for denouncing the regime, the confiscation of all our property, the rationing of food etc., was really what translated.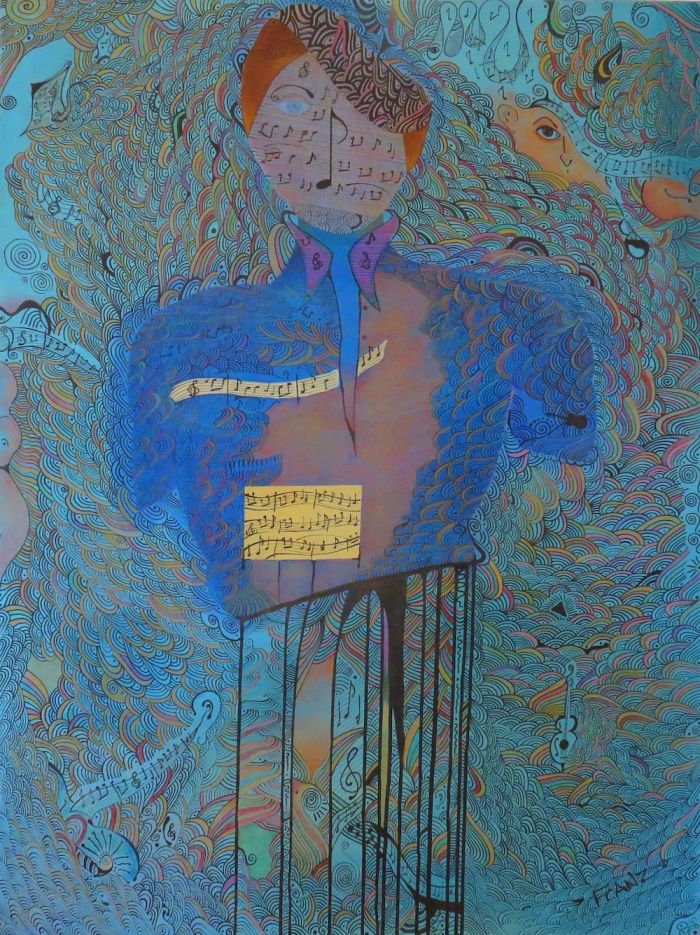 The Score
Although it happened when you were young, do you feel it has impacted your art?
Yes, the experience was referred to often. I weaved together in my mind what it must have been like through stories of the good and bad times. My family painted a picture of their former lives and what it was like living in a Communist country. I think that the aftermath of this experience is transferred from one generation to another. I make reference to Cuba in various paintings by hiding small symbols such as the Cuban flag in the ink work.
Which artists have most influenced you?
The artists that have influenced me most are Cuban artist Wilfredo Lam, Picasso (because my mother was born in Spain and I was an apprentice there to several artists), and Kandinsky due to his style and process.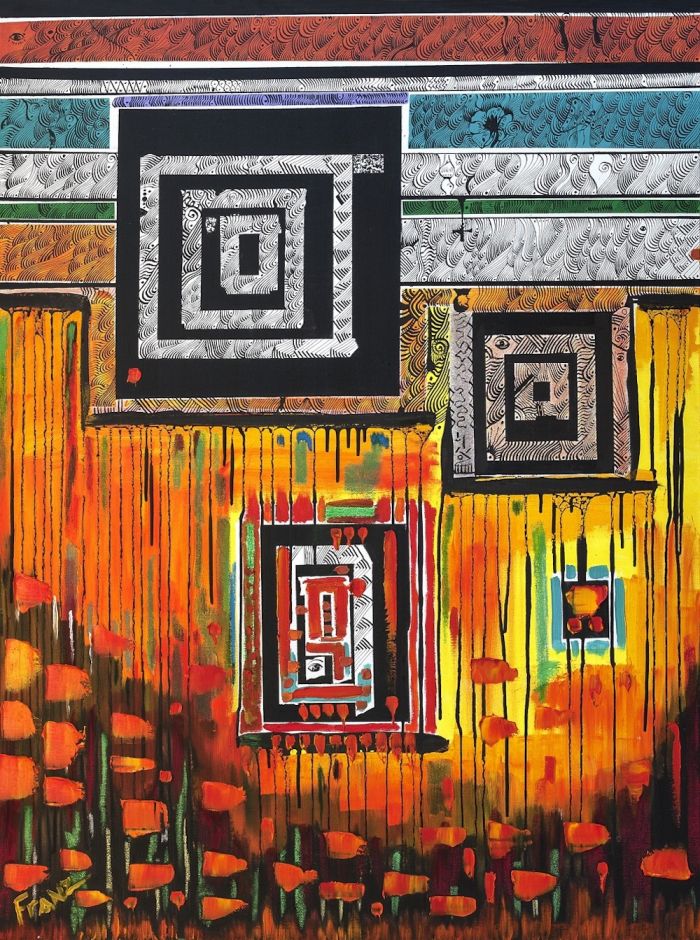 Rhombus
How would you define your style?
I coined my style as "Neoplasticity." Neo meaning "new" and plasticity meaning "the ability to change its form." As you view my paintings it is similar to looking at a cloud, you will see forms develop such as torsos, eyes, hands and symbols as you view the paintings.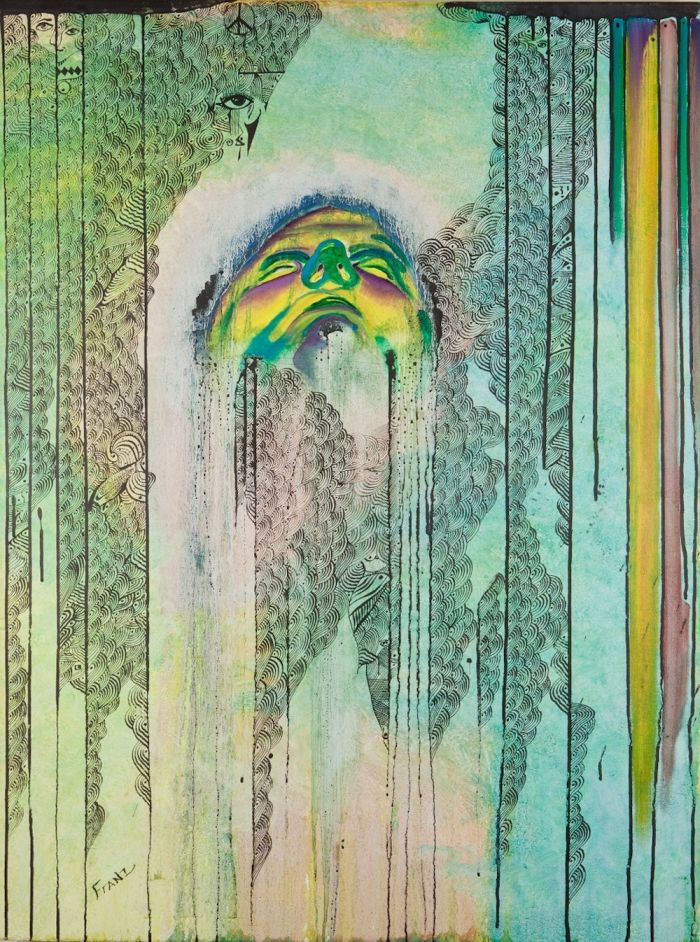 Peace
Is there any one single event that most influenced you and your artwork?
The event that changed my art was the sudden death of my first wife. I had a painting on my easel at the time and painted over it immediately. I began putting forth a very complex painting using paint, ink, pencil. It took me two months to complete and it told my story of life and death and how it affected my life, hence its title. It begins with my eye in the center of the painting and a priest in the lower right corner of the painting. As you travel clock wise around the canvas you will see names of people an upside-down woman symbolizing broken relationships.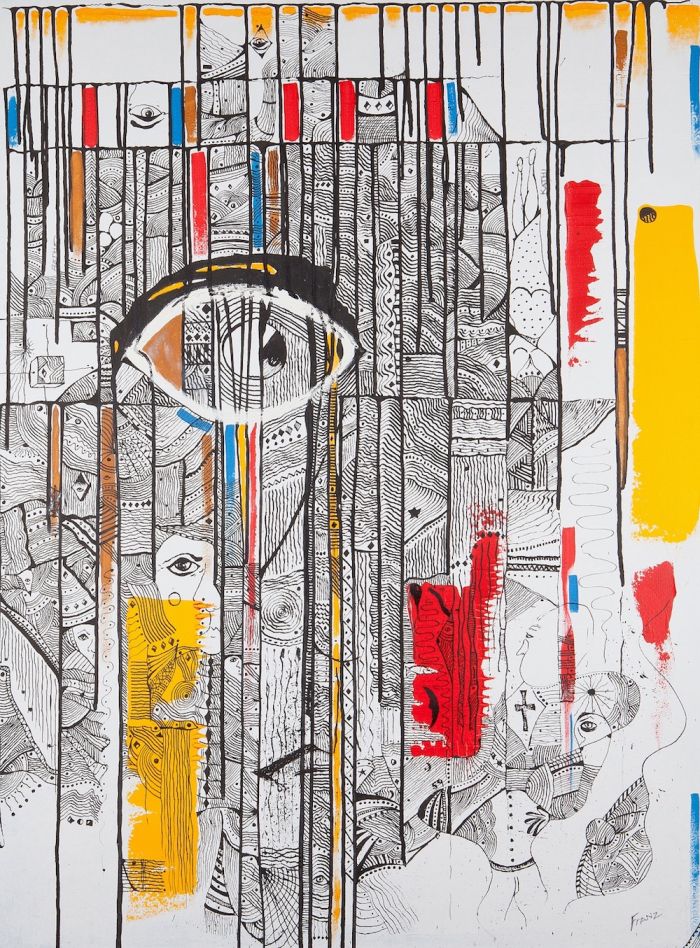 Life & Death
What medium do you generally work in?
The medium I work with varies but as a general rule I use oil paint, oil pastel, ink, pencil and acrylic paint. I guess you could refer to it as mixed media.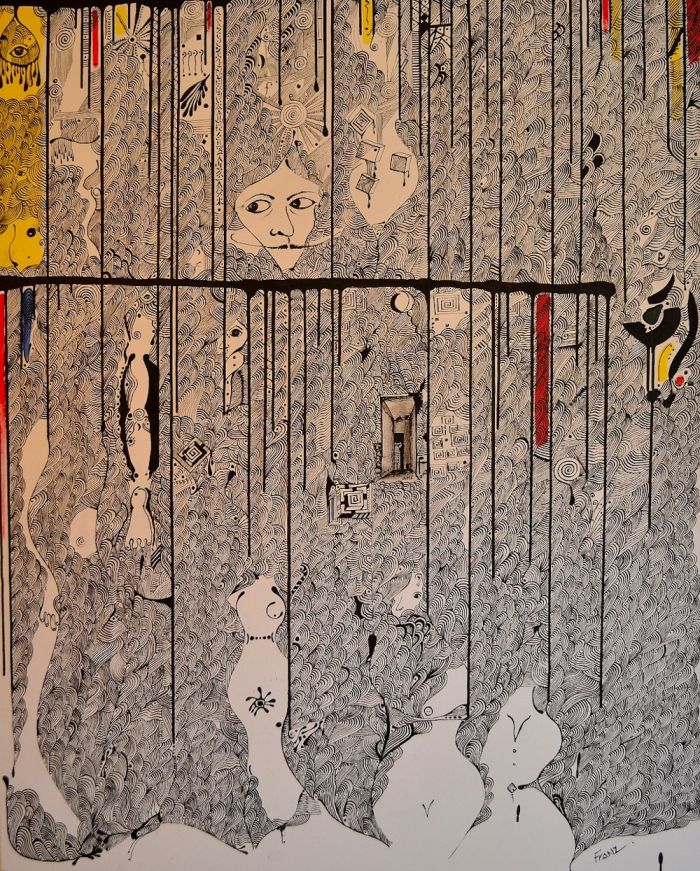 Instinctual Drift
Has your process changed throughout the years?
Yes, my process has changed a little, but it is not dictated to by medium or process or color. My message and my subject matter dictates that. If I can translate my story, subject or feeling on canvas with only two types of media I would do so.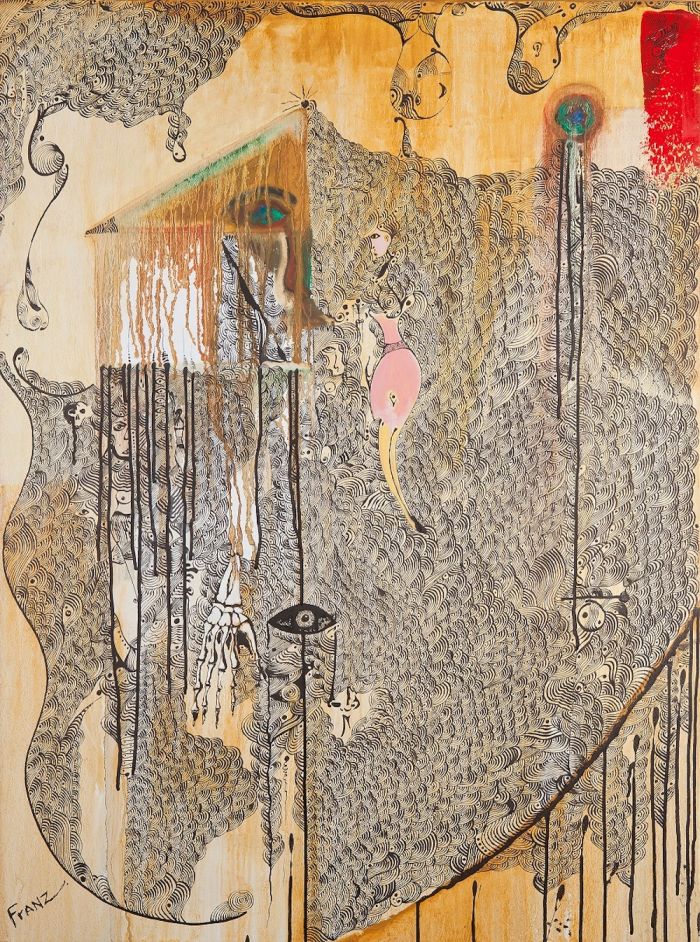 Fracture
What would you like viewers to take away from your art?
Look closely; things are not always what they seem. I hope viewers view my art as a symphony of color, storytelling and philosophy with a twist of sexuality.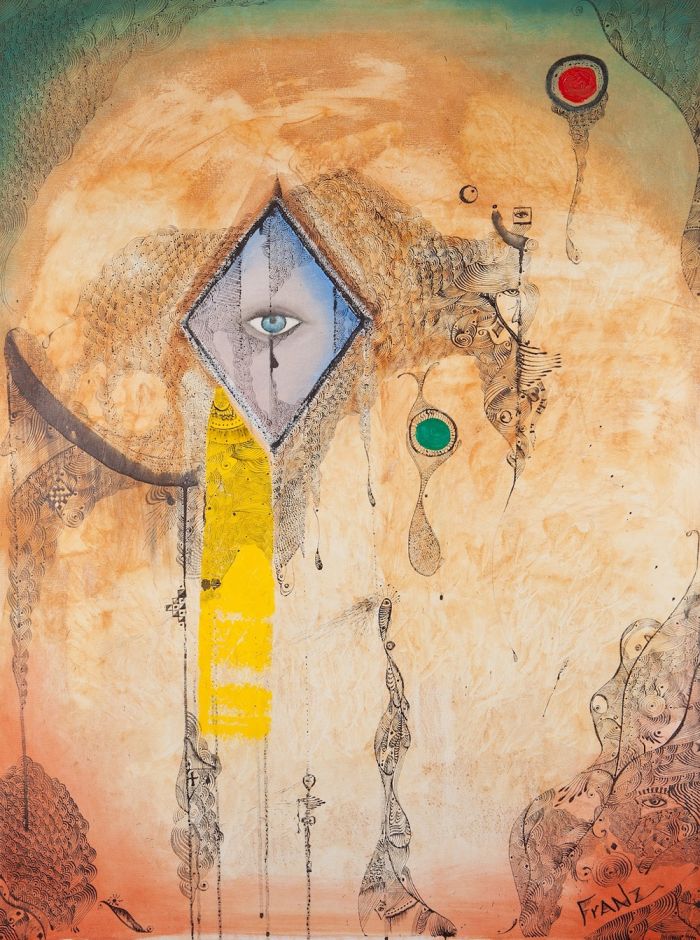 Ojo
Do you have a current exhibit?
I have six pieces in a show titled When Myths Meet in Philadelphia at the Painted Bride Gallery. It's a two man show with myself and Al Johnson. This show will run through May.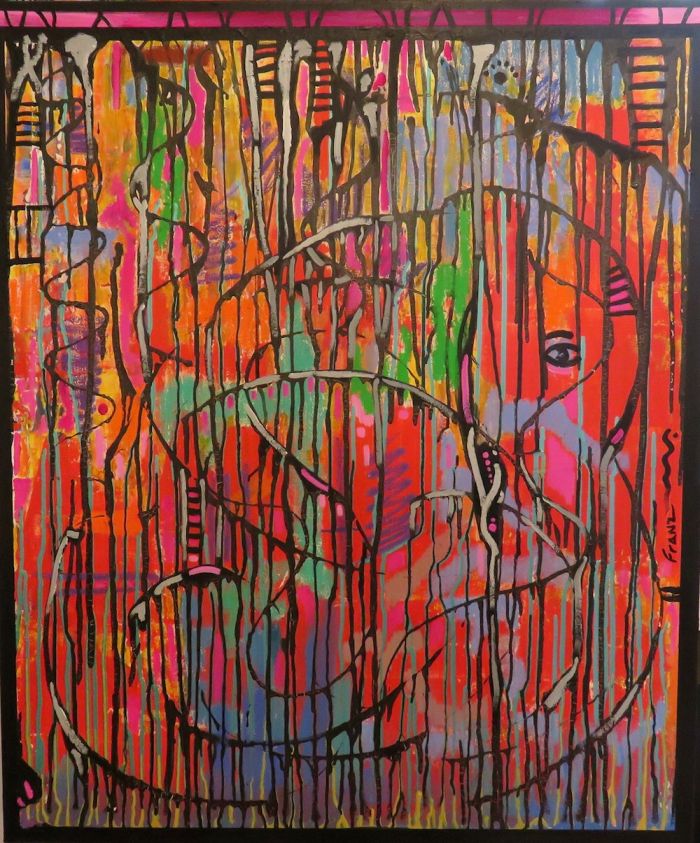 Meltdown
Do you have any upcoming shows?
I was part of a five man show at the Haley and Steele Gallery in Boston, Massachusetts associated with Fine Art Collector (whom I have been represented by since December) and look forward to more exhibitions with them.