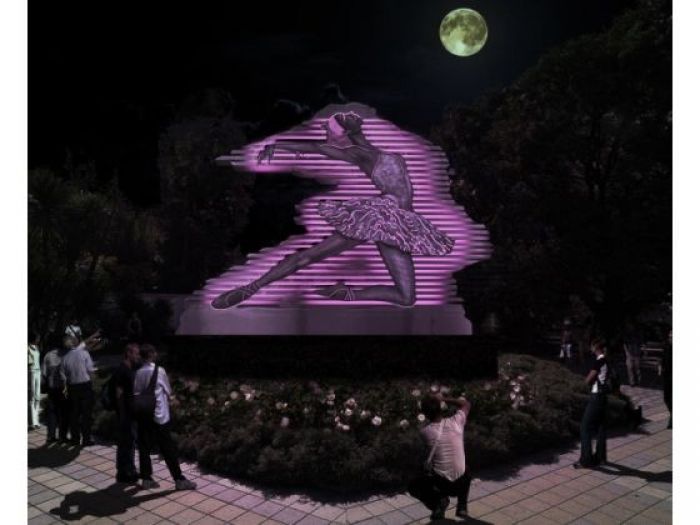 Ron Taybi
Laguna Beach-based artist, Ron Taybi has big plans to bring some peace to the world in 2014...
And, he's kicking off his mission, by donating a 22 foot, 8,000 pound, statue of a posing ballerina entitled, "Gracious –Beacon of Peace," to the city of Sochi, Russia.
The supersize sculpture will be dismantled for its journey to Sochi, where the Taybi will reassemble the installation at its new permanent home in front of Sochi's Winter Theater, a regal performing arts center originally commissioned by Joseph Stalin. A perfect fit for the statue, the performing arts center acts an arts and culture hub in the city, as well as a premier venue for world-renown Russian ballet performances.
Prior to its donation, "Gracious - Beacon of Peace," will be unveiled at a private, Southern California gala on Saturday, Feb. 22 at 4 p.m. Held at Taybi's work studios, Rami Designs in Irvine, California, the event is set to bring the art world together as collectors, aficionados, and press are slated to mingle, along with live ballet and music. Also on display throughout the evening, will be a collection of Taybi's pieces that span his 20 year career in art, sculpture and design. a working artist for over 20 years, the event will also include more pieces that Taybi has created, from sculptures to other works.
The ballerina is breathtaking not only because of her large size, but also because of her modern design, including an LED light display.
Inspired by similar grand gestures amongst different nations in the past, Taybi hopes his message of peace through this donation, will be seen and revered by Russia and the world, as an offering made in the same vain as Statue of Liberty's donation to the U.S. from France over a century ago. And, this is just the start, as Taybi hopes to set the stage for more such gestures in the future.
Unlike many artists, confined to small studios, Taybi attributes his ability to create on such a grand scale to his large, warehouse-like studio, where he also conducts and creates his professional design business. As president of Rami Designs, Taybi is also the head of the largest architectural metal business in Orange County.
For more information on the "Gracious –Beacon of Peace," ballerina statue, visit http://www.rontaybi.com/ and be sure to like the ballerina's Facebook page.