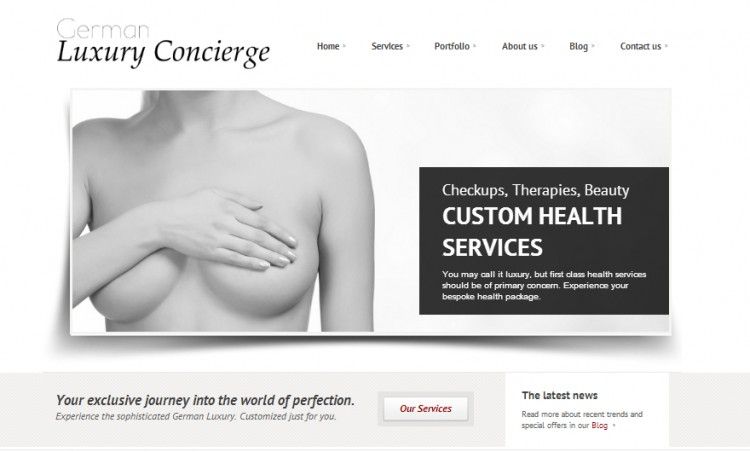 German Luxury Concierge
World-famous virtues - paired with an idea. From now on, German Luxury Concierge offers sophisticated clients custom-tailored health services, luxury experiences and event consulting.
Everyone appreciates good service
And just when it comes to essential things, such as health, holidays or important events, compromises are beyond question. Therefore, we now offer our customers concierge services, which set new standards. The most important thing: Our unbreakable core values. World-famous German virtues are at the forefront of our thinking. Reliability, quality, security and exclusivity. For wealthy clients, these values are a guarantor for perfect results.
Germany represents excellent medical know-how
Therefore we offer our customers the opportunity to access those services especially easy. German Luxury Concierge coordinates services like medical premium checkups, therapies and beauty treatments.
A paradise for luxury lovers – experience "luxury made in Germany" exclusively
Visit the famous German luxury manufactories, enjoy private shopping sessions or experience breathtaking hours at Germany's race tracks. We are always guided by the interests of our demanding customers. The result: Unforgettable experiences.
In professional hands: Important events in Germany
Business meeting, incentive or event. We are our clients' local support. Assistance for reservations or transfer of guests. Recommendation of the best restaurants and hotels. Everything necessary to make an event perfect.
About German Luxury Concierge
Individual journeys to Germany, which meet highest demands - that's exactly what German Luxury Concierge wants to offer its customers. Uncompromisingly, German Luxury Concierge has assembled an exclusive, highly competent team of experts to fulfill the dreams of sophisticated customers.
We are the only German service provider, who is able to support you with concentrated expertise in the field of luxury made in Germany, premium services and top class event coordination.
German Luxury Concierge
The Portfolio - individual services for sophisticated clients