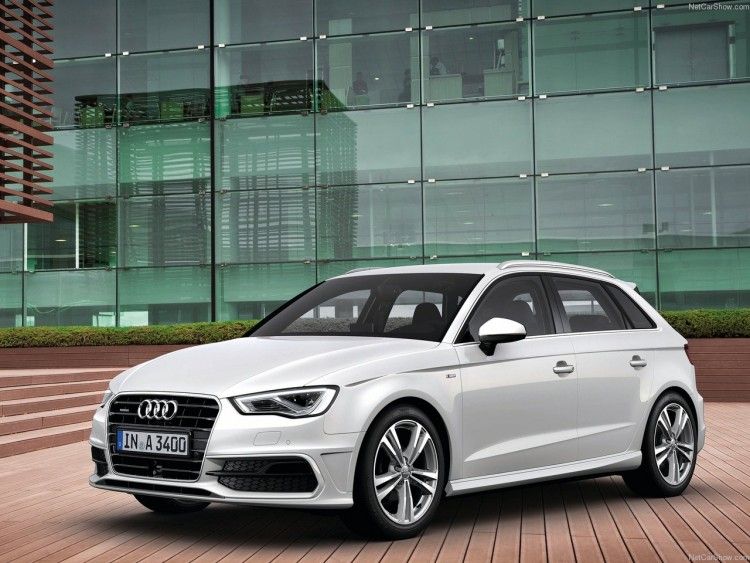 Newspress
A murky day greets us at the beautiful Luttrellstown Castle as I enter the grounds of this historic Irish venue. Whilst it's a stunning venue and the choice of the Beckhams to get wed, today is not about the Castle but more the impressive lineup of Audi A3 Sportbacks parked outside. After a 30-minute briefing on the new Sportback and what we can expect I take the keys to a 2.0 TDI 150BHP S-Line manual. With a short suggested test drive outlined on a map in the passenger seat I choose to ignore the planned route and take on my own test drive, which incorporates the twisty roads of Mount Joseph, out through Lucan, on to the N4 for some motorway driving, a quick stop off at Weston Airport for a Coffee and back to Luttrellstown to return the keys. So, what do you get in the new A3 Sportback and is it any better than its predecessor? The answer in a nutshell is, yes! The new Sportback starts off at €29,300 which is just €1000 more expensive than the hatch version.
At the moment you can have a 122BHP 1.2TFSI, a 180BHP 1.8 TFSI, a 105BHP 1.6TDI and the 150BHP 2.0TDI S-Line that I am driving today. Later in the year a fifth engine will become available and make the A3 even cheaper. This will be a 105BHP 1.2TFSI with an on the road starting price of just €27,750. All engines have been reworked for fuel efficiency, lower emissions, more power and the 2.0 TDI powered Sportback that I am testing will save you a further 10% doing 4.2 litres per 100 kilometers on the combined cycle. The S-Line exterior package makes the premium compact car look even more aggressive. The single-frame grille is painted in gloss black and honeycomb grills with fog lights fill the large air intakes. The roof spoiler has been lengthened further. and the bumpers are sharper with the honeycomb effect up front and a platinum gray diffuser to the rear. Peering out below are chrome-plated tailpipes.
Inside the cabin has been totally re-worked to make it a much nicer place to be leather trimmed S-Line seats,cruise control, park assist, fog lights, interior lighting package, front centre armrest, Audi Music Interface, colour driver information system and electric heated mirrors. The good news is that when you turn the key, out pops a 5.8-inch screen, which acts as your MMI control centre. All A3 Sportsbacks feature the MMI system as standard and can be upgraded to MMI navigation plus with MMI touch. For those not familiar with MMIit's basically asingle interface that controls a variety of devices and functions of the car, eliminating the need for vast array of buttons and dials that featured on older models. So how does the A3 drive? Phenomenal is the only word I can use. I have been in various press cars now over the last few months and it has been a while since I have been in a car that felt so pleasant to drive.
The difference in power from the various 1.2 to 1.8 litres diesel cars I have recently tested is night and day. You really feel all 320Nm of torque from low down in the rev-band and it storms to 100km/h in 8.7 seconds, which honestly feels a lot faster behind the wheel. Through the twisty stuff the car feels planted, sharp and precise thanks to better weight distribution. The engine has been slightly tilted backward and the axel shifted forward by 40mm. Small tweaks but they make a big difference! On the safety front the A3 Sportback scored a maximum 5 starsin the Euro-NCAP test which adds piece of mind. To sum up the A3 Sportback its not difficult to see why it won so many awards. It's well engineered, a delight to drive and definitely my favourite car in this sector.
Specification (Irish - UK)
Engine Size -2.0 TDI
Fuel Type -Diesel
Power-150hp
Torque - 320Nm
Acceleration (0-100km/h) -8.7 seconds
Top Speed - 216 km/h
Consumption (Combined)-4.2L/100km
CO2 Emissions - 108g/km
Road Tax -Band A3 €190
Base Price-€29,300
Price as Tested-€38,000 approx.
Newspress
Newspress
Newspress
Newspress
Newspress
Newspress
Newspress
Webpress
Luttrellstown Castle