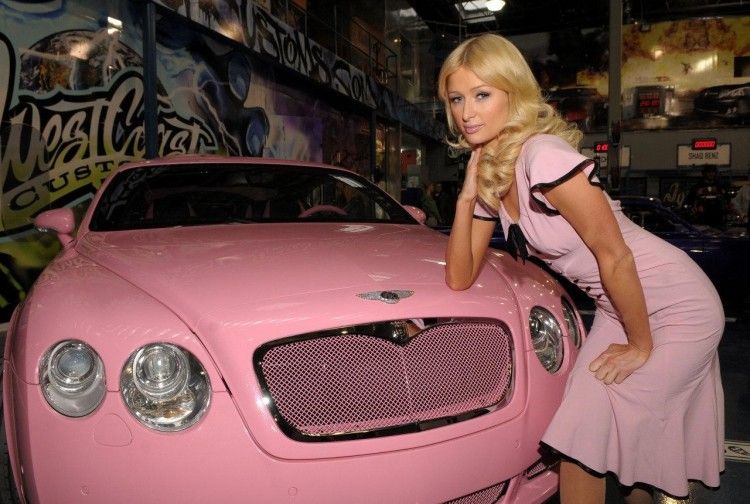 What's there not to be envious about celebrities? The eat at the best gourmet restaurants, wear the poshest clothing brands, are seen with the most beautiful companions (sometimes not the same ones two days running) and yes, they get to drive the poshest, most luxurious of all automobiles.
Get ready for some serious auto envy, because here's a list of the top 10 celebrities and their luxury cars. Whether or not they deserve them is another matter altogether...
1. Paris Hilton - Bentley GT Continental ($285,000)
The amount of cars owned by the infamous Hilton heiress almost rivals the list of men whose company she keeps for an entire year. While Paris have been known to have owned a garage full of luxury vehicles, she is mostly spotted driving around in one of her all-time favorite cars, the Bentley GT Continental.
Earlier this year, Paris was photographed with her baby blue Bentley GTC parked outside her Malibu beach mansion but it is said that her favorite has always been the Barbie pink Bentley GT Continental which she purchased for herself during Christmas of 2008. The car cost a whopping $285,000, which wasn't surprising because it features a diamond-encrusted dashboard. That, and the fact that the car has been spray-painted a custom color pink that Paris herself had chosen prior to purchasing the car. The die-hard Barbie fan revealed that it was her favorite color since childhood when she first idolized Barbie and her pink Corvette.
And oh, did we mention that on top of these two beauties, Paris also owns a bright yellow Lexus LFA and a Ferrari California?
2. Justin Bieber - Fisker Karma ($150,000)
Justin Bieber received his first car, a $150,000 Fisker Karma, on the day he turned 18. He was a guest on The Ellen DeGeneres Show when his long-time manager and best friend, Scooter Braun, surprised him with an unforgettable gift in the form of a stunning Fisker Karma.
The generous manager decided on the car due to its environmental-friendliness, but repair shop management experts opined that the fact that the car is limited edition (only about 2,500 were ever built in the world, putting it in the same pedestal as the legendary DeLorean) makes it even more attractive to celebrities.
3. Lady Gaga - Audi R8 GT ($220,000)
Besides her impeccable showmanship and out-of-the-world costumes, the world got to know just how much of a rare luxury car connoisseur Lady Gaga is after she purchased an Audi R8 GT. Lady Gaga reportedly spent close to $220,000 for the silver supercar, and what made it even more special is the fact that there were only 333 of these gems existed in the entire planet.
Apart from this modern beauty, Lady Gaga also owns a classic red Rolls-Royce Corniche convertible which she occasionally drives around with her entourage.
4. Kim Kardashian - Ferrari F430 ($186,925)
One half of the Kimye duo (that's Kim Kardashian + Kanye West, for the uninitiated), Kim drives a Ferrari F430 that costs just a little over $180,000. With the ability to achieve top speed of 196 mph, the F430 features a 4.3L V8 gas engine as well as ultimate aerodynamic efficiency. A list of other cars that in the fleet belonging to the most Kardashian sister include Lexus RX 450H, Bentley Continental GT, Rolls Royce Ghost, Mercedes-Benz G63, Porsche Panamera and Ferrari 458 Italia. She has also been known to occasionally take her fiance, Kanye West's Lamborghini Aventador, for a spin around the block.
5. Jay-Z - Maybach Exelero ($8,000,000)
With a combined net worth of over $775 MILLION (and counting!), Jay Z and his lovely bride Beyonce are considered one of the wealthiest celebrity couples in this side of the universe, so it comes as no surprise that he would spend just 1% of it on a $8,000,000 million dollar car. With a name that's as exotic as it gets, the Maybach Exelero is a top-performance, Batmobile-lookalike sportscar that features a twin turbo V12 engine that allows the music mogul to achieve a top speed of 218.38mph and accelerate from 0 - 60mph in 4.4 seconds.
Image by celebrific
http://pictures.dealer.com/j/j
Image by jimellisaudimarietta
https://encrypted-tbn0.gstatic
Image by celebritycarsblog
http://www.luxuo.com/wp-conten
image by luxuo