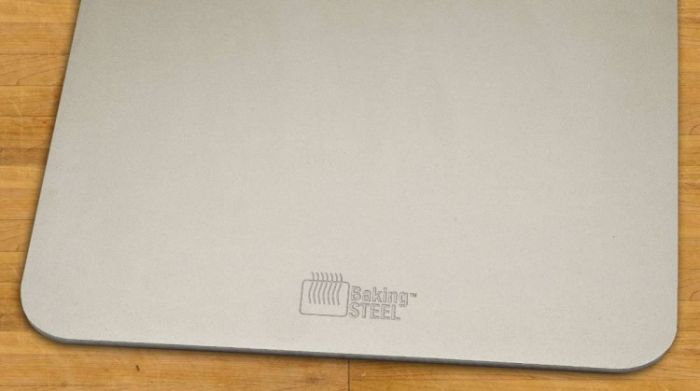 Baking Steel
You've tried cooking a pizza on a pizza stone and love the way it comes out but oftentimes, it can cook too quickly in parts leaving you with a burnt crust. To avoid that, the folks at Baking Steel have come up with the perfect solution – a recycled STEEL creation.
Andris Lagsdin, a Massachusetts native is the man behind Baking Steel. His father Andry Lagsdin, a native of Latvia, founded Stoughton Steel Co. of Massachusetts back in the early 1980s. Since then, the business has supplied steel equipment parts to John Deere and Caterpillar since 1990.
If you think all pizza stones were created equally, you certainly haven't tried this one. Each one has already been pre-seasoned so you can use it right out of the packaging. To get started, make sure that the rack is placed on the second highest level in the oven and place the Baking Steel on it. Be sure there is enough room for the pizza to easily be added and removed. Preheat the oven to 500 degrees and heat the stone for 45 minutes.
Lightly flour a pizza paddle and place the rolled out dough on top. Next, add all of your favorite toppings and place on top of the Baking Steel for 7-9 minutes or until the pizza sauce starts to bubble.
Be sure to take great caution when using the Baking Steel as it heats up and stays extremely hot, especially when removing the pizza from the oven. Let the steel unit cool down for at least an hour before cleaning. When the unit is entirely cooled down, use a stiff nylon brush to clean as soaps and detergents should never be used. If the unit should get wet, be sure to towel dry immediately or it will result in a rusty finish.
We love the Baking Steel unit because it allows us to cook pizza faster and more evenly resulting in a deliciously crispy golden crust.
Baking Steel donates a portion of each sale to The Greater Boston Food Bank. For more information, visit www.bakingsteel.com.