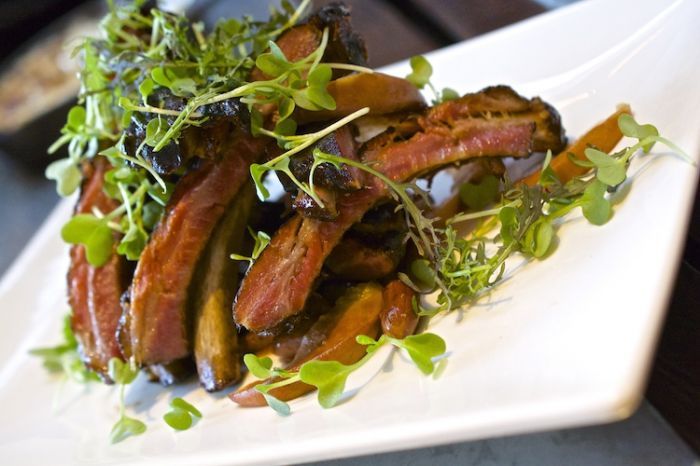 Laughs prove improvisation can work. The same can be said about food. In this instance, BBQ adjacent to the Hollywood Improv comedy club on Melrose. Roadhouse LA opened its doors last year then made a change in chefs. The results equate to laughs for a stand up comedian...BBQ that brings down the house. Modernist Global BBQ is the moniker attached to this West Hollywood play on BBQ. Thus, craft cocktails are a large focus with due attention to beer.
A range of cocktails and names entertain, replete with Ole Smoky Tennessee Moonshine options. The Cherry Pop mixes the latter with cherry and Mexican coke. Carrying over the soda theme with Mountain Dew, the A Little Dickel Dew Ya makes Scotch an option for all; George Dickel 12 year and lime peel are the only other ingredients.
From Virginia through quality stints across the southeast, Chef Kyle Shutte now navigates the eatery that services both comedy club goers and restaurant goers alike. The menu consists of small and large plate menus. Off the smaller, the Chicken Fried Watermelon was both savory and refreshing while the Root Beer-Cured Bacon proved spicy-sweet, pickled with rind.
We ordered the Pork Ribs and Roadhouse LA Brisket off the larger menu. The former spoke of Thai influence, fusing Niman baby back ribs, ponzu bbq, boiled peanuts and pickled peaches. The brisket plate came replete with desirable components. Grass fed beef arrived partnered with beer cheddar, house pickles, black bbq, master fat-caramelized onions, kimchi coleslaw and Texas toast. And for good measure, we--as should you--ordered the Campfire Carrots off the sides menu, which included toasted thyme marshmallow. Whether you enjoy a comedy show next door or not, a fun night awaits you at Roadhouse LA.