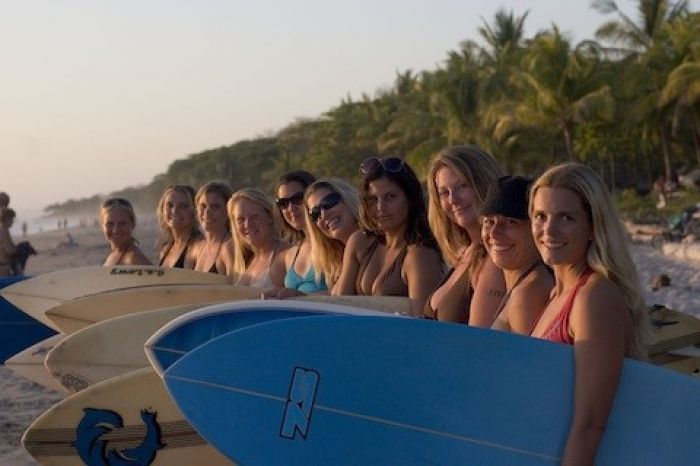 Pura Vida Adventures
Give the gift of health and wellness this holiday season. After all, it's the only gift that truly keeps on giving. We've compiled a list of some of our favorite gifts that beautify and renew you from the inside out, bringing you holiday cheer for body, mind and spirit!

Pura Vida Adventures Surf & Yoga Retreats
Pura Vida Adventures is an empowering and rejuvenating women's surf and yoga retreat located in Malpais, Costa Rica.A healthy escape for both body and mind, this all-inclusive, seven day, six-night retreat includes beachfront barefoot-luxury accommodations, daily surf instruction from beginner to advanced, daily oceanfront yoga sessions, beachfront massages and healthy, gourmet meals.

In a world filled with obligation and responsibility, this retreat highlights the true essence of travel – experiencing exhilarating activities, forming new friendships, enjoying pristine and tranquil landscapes, indulging in local culture and ultimately, enriching the lives of women. Rates start at $2,195. To book or purchase a gift certificate for a retreat, contact: info@puravidaadventures.com or (415) 465-2162.

Bloom Natural Health, Naturopathic Medical Boutique
Natural medicine is no longer the wave of the future. It's the new medicine for the 21st century. Located in the coastal community of Encinitas in San Diego, Bloom incorporates the wisdom of ancient healing arts with the most innovative, cutting edge technologies of today's medicine. From injectable nutritional cocktails like their famed Skinny Shots, to IV Therapy, to "No-Tox" a natural anti-aging therapy and bio-identical hormone replacement. Be on the lookout for the BloomMobile Van, taking health on the road to a community near you.

Bloom's holiday specials include new patient gift certificates, a $250 Value for only $175 or buy a ten pack of shots and get a second pack for 50% off. These specials last through December 21, contact Bloom at (760) 230-4982.

Suja Juice
Juicing is all the rage. And for good reason, a 16 ounce bottle of juice can pack anywhere from 2-3 pounds of fresh fruit and veggies. But not all juices are created equal. Suja presses only organic fruits and vegetables in a hydraulic cold-press, which extracts the maximum amount of goodness, i.e., vitamins and minerals, because it doesn't heat up like most juice presses, which alters the content.

Not only can you buy individual bottles at a store near you, Suja offers home delivery of their Lifestyle Packages throughout San Diego County. These packages range from a 20 Bottle Beginner Pack for those just testing the water ($179), to the Basic Month which includes 56 juices, or two juices per day ($462), or the Regular Monthly delivery of 120 juices, or 30 juices per week, ($960). To place your order visit, www.sujajuice.com/place-order or call (855) TRY-SUJA.
Pura Vida Adventures
Oceanfront Yoga
Bloom Natural Health
Dr. Amanda Ward & Dr. Lauren Noel
Bloom Natural Health
Bloom Natural Health
Suja Juice
Suja Juice Lineup