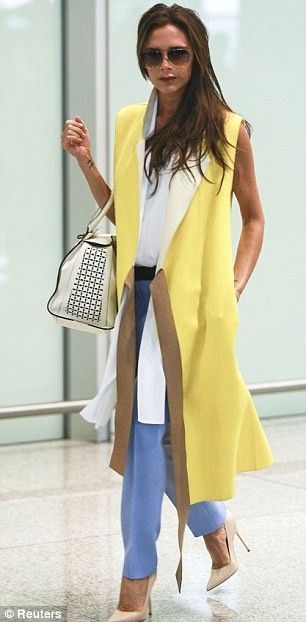 Photo courtesy Reuters
Arriving in China and sporting a uniquely cut, pastel colored ensemble, Victoria Beckham was met by loving fans in the China airport. The pastel colors were an interesting blend, combining a tame yellow with a soft baby blue, but the flowing cut of her outfit was a little awkward, often times clumping together and doing few favors for the gloriously glamorous Beckham.
Her husband has been working his magic in the Far East for a few days, but now the true power of brand Beckham has been unleashed on China.
Former Spice Girls singer Victoria Beckham arrived at the Beijing Capital International Airport in Beijing on Saturday dressed to impress.
The 39-year-old stormed through the airport in her attention grabbing sleeveless coat and was welcomed to the country by some eager fans. (Read More)