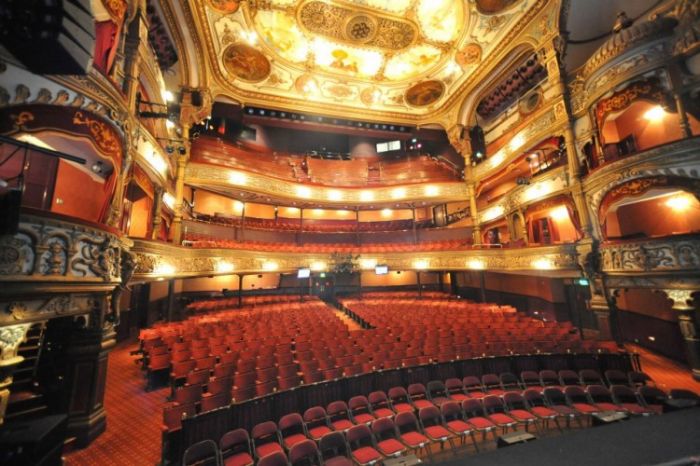 Grand Opera House
Belfast – once suffering from what was known in street jargon as 'The Troubles' – is now thriving in times of peace and evidence of this lies in its healthy, diverse theatre.
With an estimated 18.1 million pound renovation completed, Belfast's Lyric Theatre – now three times its original size - is providing both a domestic audience and an ever-growing international tourism sector with diverse productions as well as educational opportunities for young and old alike.
Architects O'Donnell & Tuomey from Dublin, have designed a 54,164 square foot building in an impressive blend of 'Belfast' brick, Iroko wood, glass and steel. Spacious lobbies and bars overlook Northern Ireland's largest river, the Lagan, with a 389-seat auditorium, the Danske Bank Stage, as the main performance area. A second performance area, the Naughton Studio, accommodates between 125 and 170 people while a third space is the rehearsal room, the same size as the main auditorium stage. 
Keen to explore the revamped theatre, we attended in April a one-man show, 'The Man Jesus,' featuring veteran English actor, Simon Callow, whose film credits include the low-budget, British global hit, 'Four Weddings and a Funeral' and 'Shakespeare in Love.' While we would have preferred a bit more innovation from Matthew Hurt's script – which simply follows the Biblical story – the 90-minute performance presented a considerable challenge for veteran Callow, who not only had to play several different characters, both male and female ranging from Mary and John the Baptist to Pontius Pilate, but do so with but periodic changes of lighting and a handful of wooden chairs on stage as his only props, which, to the bewilderment of some onlookers, were moved around the stage randomly as the play progressed.
While Callow attempted creative versatility, speaking in accents that varied from Scottish to northern English, it all didn't quite work as a concept.
A quick look at the Lyric's upcoming season, however, reflects its firm commitment to diversity. 'Sétanta,' for example, is an avant-garde dance depiction of an age-old Irish saga - a stylised tale of greed, power, envy and love while "Piaf' is a powerful musical homage to one of France's most endearing icon, starring Christine Bovill. Younger audiences are not forgotten either with a production of 'The Gruffalo's Child,' which follows hot on the heels of London's West End success of 'The Gruffalo.'
Highlighting local talent and social issues is a key part of the Lyric's philosophy as witnessed through its special 'Tales of the City' season - plays inspired by Belfast. These include 'Love, Billy,' 'Can't Forget About You' and 'Weddins, Weeins and Wakes' by Marie Jones, Olivier Award winner with 'Stones in his Pockets.'
Competing with the Lyric for audiences is the Grand Opera House, a stone's throw from City Hall in the downtown area. It is perhaps Belfast's most historic theatre having opened its doors in 1895. Since then it has hosted performances by a veritable 'who's who' in the world of entertainment from Gracie Fields to George Formby and Laurel & Hardy, and, in 1963, a then unknown Italian singer named Luciano Pavarotti. With street violence erupting in 1969, the theatre suffered diminishing audiences and was slated for demolition by its then owners, Rank. That's when the Ulster Architectural Society stepped in, launching a campaign to save it. In 1974, it became the first listed building in Northern Ireland.
In 1991 and again in 1993, this plush-seated theatre suffered extensive damage following two car bombs but major refurbishment work followed and in a public display of resilience, the Grand Opera House hosted the BAFTA awards on Sunday, 14 September 1994.
With a local choral society's production of 'The Sound of Music' in the main hall, we opted for the theatre's smaller performance area for the New York-based Irish Repertory Theatre cum Origin Theatre performance of 'For Love' by Laoisa Sexton, which premiered at the Irish Theater Festival last year and is on a short national Irish tour. The hard-hitting, street-talking play, on a stage bereft of props, couldn't have been more of a contrast to the pretty, puritan-like von Trapps musical next door made famous byJulie Andrews, Christopher Plummerand Co. Focusing on rather frantic and fruitless searches for love and companionship by several young urban Irish women - most often in the wrong places, with the wrong people - it highlighted the extent to which people sometimes go to avoid loneliness, and the eventual grief that it leads to. Not quite joie de vivre, but realistic nonetheless. 
With the Grand Opera House now thriving once again, two upcoming shows reflect the diversity it aims for. Direct from its smash hit West End season is 'Soul Sister,' an energetic musical inspired by the life and times of singers, Ike and Tina Turner while 'The History Of the Troubles (accordin' to my Da)' is a popular local comedy based on humorous anecdotes and memorable characters arising out of the so-called 'Northern Irish troubles.' The theatre also caters well to the taste of younger audiences, with the Birmingham Stage Company's presentation of Roald Dahl's classic book 'James and the Giant Peach' and a musical adventure in Nickelodeon's 'Dora the Explorer Live' upcoming.
Shakespeare also features strongly in the schedule of the Grand Opera House this year with the Globe Theatre presenting not one but three successive plays that make up the Bard's take on Henry VI. The first is 'Harry the Sixth,' the second, 'The Houses of York and Lancaster' and the third, 'The True Tragedy of The Duke of York.'
For more information on these two outstanding northern Irish theatres, see http://www.lyrictheatre.co.uk/ and http://www.goh.co.uk/
Grand Opera House
Lyric Theater
Lyric Theater