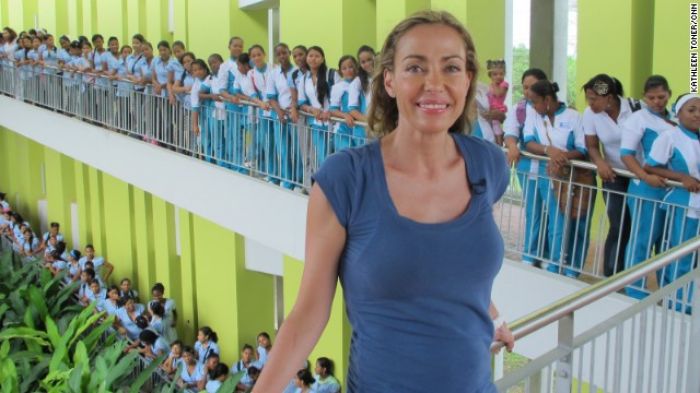 Kathleen Toner
BeLive, a group of united US based nonprofit organizations working to improve quality of life inColombia, has united to host its sixth annual event. This event will raise funds for nonprofit organizations including Give to Colombia Formula Sonrisas, Genesis Foundation and ArtNexus Foundation. The event to be held on November 16, 2012 at the JW Marriot Marquis in Miami,Florida at 7pm will honor Catalina Escobar who was nominated as a top CNN Hero on Anderson Cooper 360. Ms. Escobar will receive the coveted BeLive Award for her work in providing counseling, education and job training to teen mothers in impoverished Colombia.
Her journey to building the Juan Felipe Gomez Escobar started in 2000 when a 12-day old baby died in her arms as she volunteered at a clinic in Cartagena,Colombia. In an interview with CNN, Ms. Escobar related that at least two babies died daily in that hospital given overcrowding and poor conditions. "When I learned that the baby's teenage mother had failed to collect enough money for treatment that could have saved the child's life, I was devastated," Ms. Escobar told CNN. After her son died suddenly in a domestic accident, Ms. Escobar quit her job and launched the Juan Felipe Gomez Escobar Foundation, in honor of her son. Her foundation has helped over 2000 teen mothers since 2002. Given her achievements, Ms. Escobar was recently selected by the U.S. State Department alongside 25 other women worldwide to be part of the Fortune/U.S. State Department Global Women's Mentoring Partnership.
The event will also include a fashion show by Nicholas Felizola from Venezuela who will be presenting the 2013 MOOI collection inspired by Dutch 17th century art masters, Vermeer and Rembrandt. His show will also include a retrospective capsule of red carpet award gowns. The evening will also include an intimate concert by Gilberto Santa Rosa.
Individual Tickets are $500. For more information, to become a sponsor, attend the event or to make a donation, please visit http://www.belive.co .