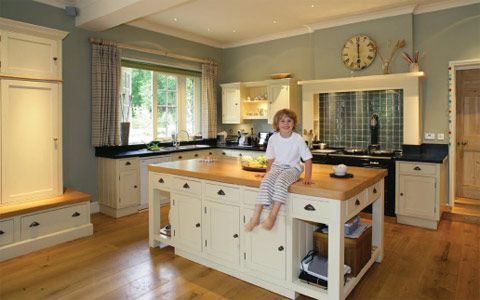 If you have some money to spend and want to increase the value of home, you really should consider updating your kitchen. A good quality, well-designed kitchen can add over 4% to the value of a home. This is one reason why sales of bespoke handmade kitchens have remained strong despite the recession. People realise that they are an investment as well as a way of providing themselves with the kitchen of their dreams.
Bespoke handmade kitchens offer creative freedom
The great thing about bespoke handmade kitchens is that they offer homeowners the freedom to be creative. It is possible to design a kitchen that is made out of any combination of materials. You get exactly the cupboards, worktops and tiles you want.
If you want, a space to show off your collection of coloured glass you can have it. You can go for an ultra modern contemporary kitchen or a homely country style kitchen. There are literally dozens of styles to choose from.
If design is not your thing, you can get help from a professional kitchen designer. Most firms employ designers who have years of experience. They will sit down with you and work out what you like and what you do not, so that they can come up with design ideas that will suit your tastes.
Bespoke handmade kitchens meet all your needs
They can literally build a kitchen that is tailored to meet the needs of you, your family and friends. In an age where people are spending more time entertaining and eating at home this is very important. People are spending more time in their kitchen and creating more and more elaborate meals. On some occasions, they are doing so for large groups of people, so having a kitchen where everything is to hand is increasingly important.
The configuration of cupboards, drawers and white goods are very personal. What suits one family will definitely not suit another.
Someone who likes Chinese food will want a space that is deep enough to allow him or her to store his or her wok. They will probably want a refrigerated vegetable drawer and a bespoke space for all of their condiments, noodles and rice. Someone who likes barbecued food will want a hob that incorporates a large griddle.
If you are particularly tall or short, your kitchen can be designed to take this into account. It can make your kitchen far safer and more comfortable to use.
All the mod cons
Having access to an experienced kitchen designer ensures that you get exactly the kitchen you need. Because they have designed hundreds of kitchens, they know there is a solution for every problem. They are aware of all of the latest innovations as well as older innovations, such as swinging pan racks for corner cupboards, which work well and are still worth installing.
A multi-use kitchen
Today kitchens are not just somewhere to prepare food. People like to multi-task. Some enjoy watching TV whilst cooking; others want to be able to follow a recipe on the web. A handmade kitchen can be designed and built to take this into account and incorporate a TV and computer screen into the kitchen.
Because there is no wasted space in a bespoke kitchen, you can fit far more in. With clever design, it is often possible to include somewhere comfortable to sit, which allows people to stay in the kitchen and socialise with the cook. Even in a small space, it is possible to incorporate somewhere to eat. An experienced carpenter can easily build a fold up table or one that slides out from under a counter, so a small kitchen can double up as somewhere to eat as well as cook.