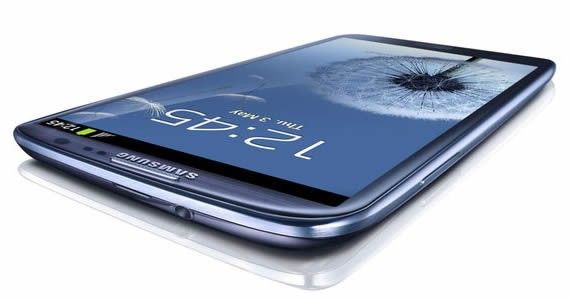 Samsung
Last week saw the announcement of one the most hotly anticipated smartphones of the year: The Samsung Galaxy S3.
The phone's predecessor was amazingly popular for an Android handset, a fact that makers Samsung capitalised on to build excitement for the device. Through a slew of leaks, speculations and rumour over the past six months, the Galaxy S3 was constantly in the headlines even though it hadn't been officially unveiled. Now that the curtain has been drawn, we can see that the Samsung Galaxy S3 lives up to the hype - in hardware, in software, and even in accessories.
Let's have a closer look and see what makes the Galaxy S3 the most desirable handset of 2012!
Hardware
The Samsung Galaxy S3 stands head and shoulders above pretty much every phone on the market, and a lot of that comes down to its powerful hardware.
It starts with a massive 4.8" Super AMOLED screen that runs at 720p, making it excellent for watching HD films and videos, or just browsing the web in style - more pixels means clearer images and sharper text.
Inside, there's a powerful quad-core processor that runs at 1.4 GHz - making it more powerful than many PCs and laptops.
This is backed with 1 GB of RAM and 16 to 64 GB of internal storage, which can be expanded via micro SD for a potentially massive 128 GB of storage space.
On the rear of the chassis, there's an 8 megapixel camera capable of 1080p video recording and on the front there's a 1.9 megapixel camera perfect for video calling in HD.
All in all, it's a very potent package that fits neatly into an 8.6 mm chassis - thin enough that it'll still fit easily into a pocket or purse. The phone looks fantastic too, with a rounded shape and a choice of "Pebble Blue" or "Marble White" colour schemes.
Software
Of course, a powerful phone is nothing without some good software.
The Galaxy S3 is rather unique in this regard, as it will ship with countless additions and modifications to the default Android 4.0 ("Ice Cream Sandwich") experience. The Galaxy S3 launch event underscored the unique human-centric, nature-inspired design of these additions, that go far beyond the natural sounds and theme of the device.
One of the most interesting new features is called Smart Stay. Essentially, the Galaxy S3 will use its front-facing camera to track your eye movement so that the screen will never dim or lock when you're looking at it - perfect for reading long articles or an e-book.
Another good one is S Voice, which is a voice-activated personal assistant similar to Siri on the iPhone. This program seems fluid and natural, and quite a cut above the implementations that have arrived on Android before.
S Beam is an intriguing proposition too, allowing you to transfer files between phones at lightning fast speeds at a touch, using a combination of NFC and Wi-Fi. Using S Beam, you can transfer a 1 GB video file in a matter of seconds.
There are other interesting additions too. My personal favourite is Pop Up Play, which allows you to use a picture-in-picture window to watch videos whilst using other applications. It's a rare form of multi-tasking that I haven't seen on any phone before, which makes it even more fun to show off.
All Share Cast lets you drag-and-drop media files onto connected TVs and projectors and have them start playing immediately. The feature only works on top of the line Samsung TVs, but there's also a Galaxy S3 dongle you can buy which'll add the functionality to any TV or projector with an HDMI port.
These additions are sure to impress your compatriots - there are many more new features than what I've written about here, and each one of them can only be found on the Galaxy S3.
Accessories
Unusually for a smartphone, there are a fair amount of unique Samsung Galaxy SIII accessories.
By far the most interesting is the Galaxy S3 wireless charger - by placing your phone on the charging pad, it charges automatically and without wires. It's an elegant solution to the charging problem, and the Galaxy S III is the first phone to ship with such a feature.
Galaxy S3 batteries are also somewhat of a unique feature, as the battery can be replaced easily just by removing the back cover - something that you can't do with the iPhone, HTC One X or the Nokia Lumia 900 - the three biggest competitors of the Samsung Galaxy Nexus.
Finally, the Galaxy S3 is the first phone since the Galaxy Note to ship with its own capacitive stylus - the C Pen. The C Pen is a top quality stylus built just for the S3, allowing you to take full advantage of the proliferation of drawing games and apps like Draw Something.
Beyond these, there are a number of other accessories that I won't cover here - official and unofficial cases and covers, as well as the more moribund items like wired chargers and the like.
Conclusion
So that's it then - everything you need to know about the newly announced Samsung Galaxy S3 - hardware, software and accessories.  Will you be picking it up when it launches at the end of the month? Let us know your thoughts in the comments below! Thanks for reading, and farewell for now.