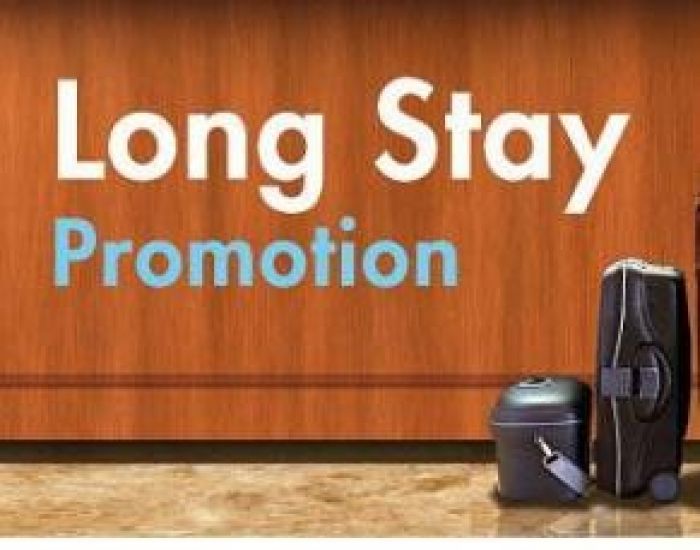 August 07, 2012 Ahmedabad, Gujarat – Cambay a group of five star hotels and luxury resorts all over India offering best deals to their travelers who wants to stay 4 days and more in cambay luxurious hotel by saving INR 500 per day. This long stay offer is available exclusively on their travel reservation page at http://www.thecambay.com. This long stay deals specially designed for our tourist and travelers who want to stay longer period of times in cambay rooms. Travelers easily can save 500 Rs. Per day and make their journey more cheerful by saving some handsome money. This long stay offer completely suits for our international travelers who want to see different destinies of India with comfort and joy.
This deal comes with all luxurious facilities like every day delectable buffet breakfast for all our visitors. This promo deal is only available for guests who come in Cambay Hotel with long stay program. This long stay offer is available for room bookings made for at least 5 days and 4 consecutive nights. For example, if visitor reserves check in date at August 1 then to take the benefit of this offer he or she must select check out date up to August 5. With this long stay booking system visitors and tourist will easily save 500 RS. Every day. It gives benefits to visitors who want to make their tour comfortable and memorable by saving money.
This special deal can be secured exclusively over the internet just by reserving the room online from http://www.thecambay.com. All visitors simply need to choose your dreamed Cambay Hotel available from the list from the right side of the cambay site under reservation box. Guest needs to select their check-in and check-out date. To take benefit of this great deal visitor must select booking check in and checkout date for at least 5 days. To find your destiny hotels available or not they must click on check availability button. Now on this screen they will find best price including of all taxes available from all our best offers. To find this long stay offer you must click onto see more offers button and can see long stay offer under offers available in the period selected menu. By checking all terms and condition and facilities you can proceed for final step and confirm your reservation by giving payment. This long stay offer only applicable if you book your Cambay Hotel room minimum for 5 days and 4 successive nights.
On this long stay offer page guest can easily check all facilities and amenities which covered by this great long stay deals. Visitors can confirm their room just by clicking on single or double occupancy options. If visitors want some extra facilities then they can easily check all our extra facilities from extras button. Before booking the room visitors can view the snapshot of that room and brief description of that room and facilities available in that room. Visitors also find inclusive rate offer which comes under long stay offer and exact location of cambay hotel which they selected for long stay. Visitors must read our terms and condition as well as cancellation policy as shown below on long stay offer page before going for payment.
To make our hotel reservation system very easy for our International Guest Cambay hotel offers multilingual option to read in different languages and also provided different currencies option to make payment in other currencies. Guest can select this language and currency option from the top of the page. Cambay Hotel booking system provides hotels and resorts booking in 17 different languages and 16 different currencies from which you can easily choose your comfortable language and currency option from all the option under the drop-down menu for language and currency. For more information on all packages and special rates visit us at http://www.thecambay.com or call on 9377954166.
Contact Info
Cambay Hotels and Resorts                                                                    
Phone: 9377954166
E-mail: salesinfo@thecambay.com