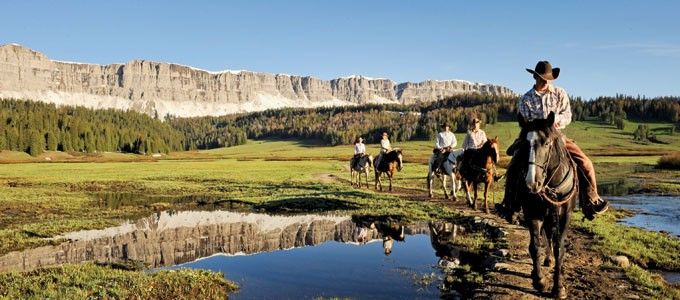 Adventures by Disney
Take your family vacation to the next level with these adventurous trips right here in the US.
Want a family adventure that doesn't involve long theme park lines in the blistering heat? Want to visit somewhere with original magic that awes your family without the manufactured ambience? How about a cool way to connect with your teen that will keep her talking about it for years to come? Here are our top picks for the coolest family adventures from around the United States.
Sandboard the Oregon Dunes
You may have heard of snowboarding but have you ever tried sandboarding? The latest in extreme sports is a lot like snowboarding with some added bonuses; sand never melts, you're likely at the beach, and warmer weather means less outerwear. Whether you venture to the first sandboarding park in Florence ,Oregon or rent your own sandboards from the California Coastline to Lake Michigan dunes, you're sure to find a new way to enjoy the sun and sand.
Tauck Baseball Event Cooperstown New York
Hit a home run with the baseball lovers in your family when you travel to Cooperstown Baseball Hall of Fame in New York. This limited sized event features a private, closed to the public tour of the Baseball Hall of Fame, appearances by Hall of Fame players as well as Ken Burns, creator of the documentary Baseball, an authentic 19th century "Town Ball" game on the grounds of Fenimore Art Museum, batting cage access at Double Day Field, a private lakeside barbecue and more. The four day event is at the end of June, so hurry before it's filled.
Adventures by Disney – Quest for the West
Combine all the best parts of a trip "out west" on an Adventures by Disney guided trip. The Quest for the West includes visits to Jackson Hole, Yellowstone National Park, Grand Teton National Park and Brooks Lake. Families will learn to ride, raft, fish and rope like true wranglers. Highlights include whitewater rafting down the Snake River and a privately guided Yellowstone National Park Tour. You'll also stay at an authentic dude ranch where you'll learn to rope from a real cowboy.
Iditarod and Northern Lights
Many children follow the Iditarod at some time during their school career. Why not be there in person to see the dog sled teams off on their race from Anchorage to Nome? Prior to the race start, spend time in Chena Hot Springs, one of the best areas to view the Northern Lights, where you'll also have the opportunity to man a dog sled with veteran mushers. On to Fairbanks for the World Ice Art Championships before you're off to witness the mushers begin their race across 1000 miles of Alaskan Wilderness. "Studying" the Iditarod will never be boring after this adventure.
Vacations tend to bring families closer together. Travel adventures such as these will not only do that, but will create lifelong memories for you and your children. "And that's the wonderful thing about family travel:  it provides you with experiences that will remain locked forever in the scar tissue of your mind."  ~Dave Barry
Sand boarding Oregon Park
Sandboarding
Baseball Hall of Fame
Baseball Hall of Fame