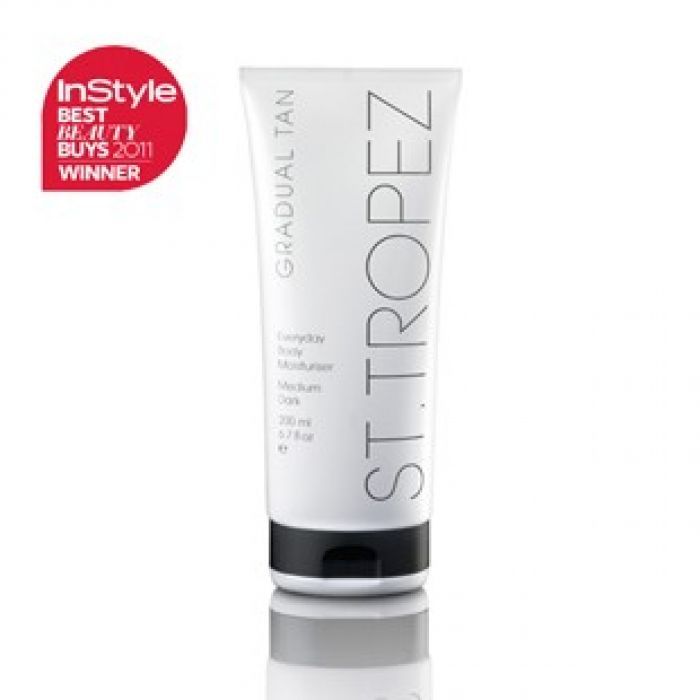 sttropeztan.com
We all fear the rusty knees, streaky thighs and orange palms that come with ill-fated attempts at fake tanning. With summer upon us, though, we all covet the healthy bronze of the beach. Sunbeds and tanning oils are no longer an option for those of us who value our youthful visages, so it's back to the ol' tan-in-a-can ploy. Lucky for fair skinned ladies everywhere, self tanning solutions have improved leaps and bounds in recent years. There are options for every skin type and occasion, whether you are jet-setting across the globe or simply want a special glow for an occasion. Read on for the inside scoop on the best of the best for summer 2013!
Best if You Are Fair
St. Tropez Gradual Tan Every Day Body is a miracle product for those starting with literally a white canvas. The color that builds is subtle and gradual so that you're never stuck with drastic, fake looking results. Applied every couple of days it is a great option for "beginners" and works flawlessly to enhance your glow between the more intense tans you will inevitably graduate to. St. Tropez products are great because they have found a way to cancel out the "fake tan smell" by 70%!
Best if You are in a Hurry
Bliss A Tan for All Seasons spray is the perfect fix for those who desire instant gratification. This citrusy smelling aerosol has a handy purple tinge to it, so you can see exactly where the product has missed, and it gives you an instant bronze. Aloe and apple extracts nurture your skin yet you're dry in 5 minutes and able to move on to more important things in your life.
Best if You are Made of Time
Clarins Self Tanning Instant Gel I know it says 'instant' but that may be a glitch in the Parisian translation. This is a traditional self tanner that you smooth on after the shower at night, and then wait for morning to see your results. The formula is smooth (almost serum-like) and silky, packed with plant-derived nutrients and vitamins. As long as you are thorough with your pre-application exfoliation and blending, you'll wake up with a gentle, streak-free physique!
Best for Special Occasions
Sometimes we just need to look amazing for one night (wedding, 10 year class reunion, anniversary etc) and the commitment of a full on fake tan is too daunting (or just unnecessary). Lorac Tantalizer Body Bronzing Luminizer is just the trick for such events; it is a quick drying lotion that gives an instantaneous bronze glow, but then washes off in the shower. You'll be downright incandescent wearing this product- it smells great, dries in just a few minutes and is moisturizing for your skin!
Best for Jet-Setters
Tan Towel Classic Self Tan Towelettes are ideal for your journey. Their sealed, individually wrapped packages are spill proof, they give you quick, fool-proof application and they were designed by an Australian, so of course they are the best! Effective for face and body, all you do is wipe yourself down with the towelette, air dry for a minute or two, and within a couple of hours you are bronzed and beautiful! Perfect for mid-vacation touch ups, your carry on should never be without.
Learn more about how to take care of your beautiful face and body for the years to come with the help of experts like the San Francisco plastic surgeons at the Redwood Center.
blissworld.com
Bliss
clarins.com
Clarins
loraccosmetics.com
Lorac