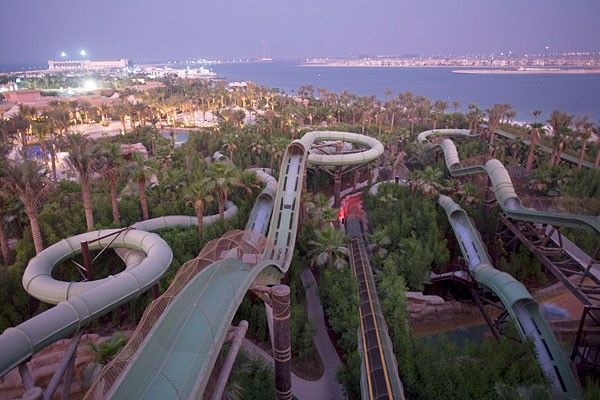 deepseaadventure.net
Dubai may be touted as one of the best shopping destinations in the world, but it is also noted for its theme parks. In fact, it won't be wrong to say that this entire corner in the Middle East is a giant theme park in its own right. With a potpourri of unique and unworldly attractions, you can be sure that your Dubai trip would be a roller coaster ride.
If you have kids along with you (or if you don't have kids along with you), you should check out these top theme parks:
1. Aquaventure: Aquaventure is easily the best water park in the country. It can also be counted amongst the best amusement parks in the world. It is humongous and has countless rides and slides to offer. One must-try ride is the Ziggurat which offers you an adrenaline-pumping slide down a glassy tunnel where you speed past sharks. A number of Dubai packages include Aquaventure in the program.
2. Wild Wadi: Wild Wadi is one of the wildest places in the world. It is a water park where you can get your hair down and experience the most hair-raising moments of your life. The height of some of the slides is so mighty that you would literally touch the sky, and the speed at which you hurtle down would seriously make your intestines churn and squirm.
3. Ski Dubai: Ski Dubai is an innovative attraction, one which has really caught the attention of the world. Located in the famed Dubai Mall, one of the top places to visit in Dubai, it is an indoor skiing rink. Kids and adults can enjoy a thrilling skiing experience in this corner. It goes without saying that a lot of effort is taken to maintain the frosty temperature inside the venue. The weather outside the mall easily crosses the 40 degree mark. On the flipside, this place can pinch your pocket really hard.
4. Dolphin Bay: Dolphin Bay is another great theme park and one which may seem to be exorbitantly priced to a casual tourist. But again, what you get is easily worth every ounce of money you invest in buying a ticket. This is the place where you not just ogle at the dolphins but also swim with them. Now, how great would be that?
5. Wonderland: There is not much unique about this park which has multiple rides, 3D films and several games to offer. But it is cheaper and counted amongst the top places to visit in Dubai. The camel ride and the go-karting sport are its biggest USPs.