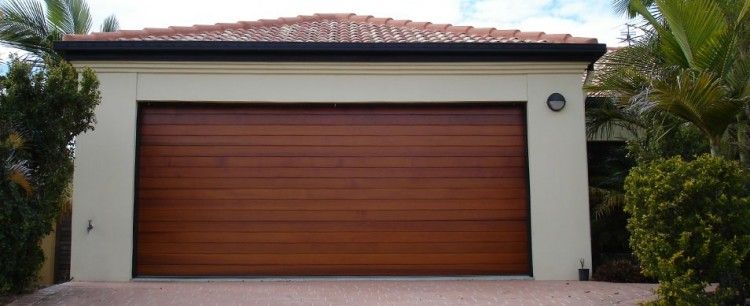 http://www.steel-line.net.au/i
How would you like a stylish natural wood finish to your garage door that never has to be painted or varnished and will not rot, shrink or even splinter? A garage door made from a Deco Wood finish combines the best of both worlds and has an advantage over Mother Nature as it has the beautiful wood finish that we all admire without the maintenance attached to a real wood finish.
How DecoWood is made
The first thing to confirm is that no trees were harmed in the making of your door, so you get a natural finish without damaging the dwindling tree numbers on our planet. DecoWood is made from high quality steel and uses a unique manufacturing process than incorporates a natural three dimensional timber finish with the strength and durability that comes from using steel rather than wood. The process of making the doors involves a two stage photo imaging and powder coating process that was brought to Australia from Europe in the early 2000's.
The Advantages of DecoWood
As already mentioned there is the distinct advantage of virtually zero maintenance other than washing the garage doors with some soapy water to keep them clean. Other benefits to consider are the fact that your garage door can have a wood grain finish of your choosing as there are nine different hues to select from and the technology used to create the finish means that only close inspection of the doors will enable you to see or feel that it is not made from natural wood. You can choose from a range of finishes that include chestnut, rose mahogany, western red cedar, bush cherry and ironbark, so that you have the opportunity to blend in with the windows and surroundings of your home.
Security and maintenance advantages
Having a garage door made from steel is going to give your property and your possessions and extra level of security that would not be possible with a more vulnerable older style door and as many burglars are opportunists, the sight of a tough and virtually impenetrable barrier to contend with will most likely leave them to consider that your house is not a suitable target. In addition to the security and protection that you can enjoy as a result of a steel garage door being fitted there is the great advantage of such low maintenance as well. Natural wood is prone to an erosion of quality over time as a result of poor weather and also natural predators such as termites, which of course is not an issue when your garage door is made from toughened steel.
Many developers and builders now choose steel doors as their premier choice of material and it is understandable when you consider that a potential buyer of a property can take the keys to their house, fill up the garage and not have to worry about decorating or even replacing the doors during their time at the house. When you consider the environmental aspects as well and the aesthetic appeal of steel garage doors finished in DecoWood, it is not hard to see why they are continually increasing in popularity.
Sarah Bolt has worked extensively in interior design. She enjoys home renovations and DIY projects. Visit Steel Line for more interior finishing options.