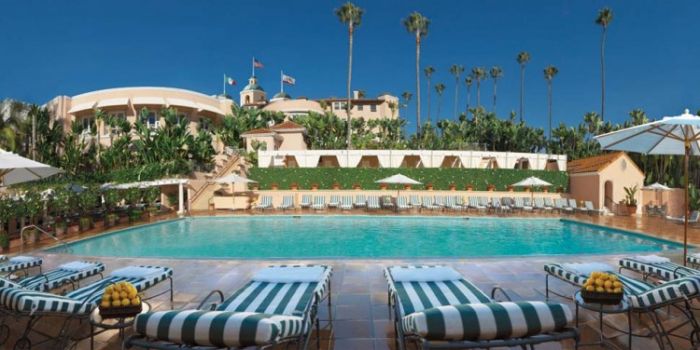 Beverly Hills Hotel
Despite its central position in the nation's 2nd largest city, Beverly Hills remains a quiet, though not demure, neighborhood in Los Angeles. Situated in its sanctuary of massive palm trees and meticulously manicured gardens, this lush area invites one to stroll past its elite boutiques, world-acclaimed restaurants, and celebrity hideouts. On a recent trip to Beverly Hills, I made it my assignment to see this charming area by foot, to the sheer shock of my car-addicted Los Angelan friends. What I discovered was plenty of fun and fancy by foot, sans sitting behind the wheel.
A little piece of the far East:  The long-time Los Angelan father and son duo, Navraj and RJ Singh, recently ventured into the hotel business with the opening of SIRTAJ Beverly Hills.  SIRTAJ Beverly Hills is a 32-room boutique hotel that features a balmy 50-seat restaurant and bar, p.s. beverly hills. Vivid greens and burnt orange colors against rich wood paneling brighten the entire property, designed by Santa Monica basedAkar Studios. The bathrooms were my favorite luxury. Mine was a 3rd of the size of my room, decked out in crimson tile work and Toto fixtures, each sourced personally by Akar Studios' Creative Director, Sat Garg. A steam shower was a wonderful Saturday morning treat after my espresso, made right inside my suite by theLavazza espresso machine. The SIRTAJ Beverly Hills is tucked along a quaint street just a block away from Wilshire Blvd and Rodeo Drive, ideal for my walking adventures! The friendly staff was eager to point me to some great neighborhood gems, such as Bouchon. 
And a little piece of France:  Just across the hotel garden of the Montage Resort and a ten-minute stroll from SIRTAJ is one of Thomas Keller's Bouchon restaurants.  As the only American born chef to hold multiple three star ratings by the Michelin Guide, Keller is renowned for his obsession for detail and French cuisine creations.  I was lucky enough to visit while the charming French maître d', Thomas Marini, was around to give a kitchen tour. Lime green masking tape (always cut, never torn) mark tubs of produce along rows of shelving. Under each clock was a small plaque, quoting, "The Time is Urgent." Multiple chambers of refrigerators kept cheeses from meats, dough from vegetables, and pastries from fish. Such is the attention to detail Keller's crew adheres to and is perhaps the most important reason the Keller culinary empire continues to sweep up international accolades. Detail shouldn't be confused with snobbery, though. Bouchon, like the traditional bistros of Lyon, is inviting and well attended to by a congenial wait staff that dons white aprons. Large hand-painted murals by French artist
Paulin Paris line the spacious second-floor dining room and imported hand-poured tile flooring completes the look of a casual, airy French bistro. In accordance with French dining, Bouchon has aVin de Carafe program that features wines bought by the barrel (and exclusively served in the restaurant) from California's finest wineries. The menu, unfurled seasonally by Britain bornDavid Hands, often features delicate fromages and coyly states (in French): "a meal without cheese is like a day without sun." A Bouchon meal without a sampling from the Fruits de Mar portion of the menu would be inexcusable. A massive pewter bar, off to the side of the main dining room, is often packed with happy patrons who delight in the fresh seafood lined neatly along the rim of the bar. I sprung for the Petit Plateau, a generous seafood platter of bliss, featuring clams, mussels, shrimp, a half lobster, and oysters. Sausages, although often rich, are delectable and hand-made. I loved the herb-roasted leg of lamb with cous-cous, petite onions and stone fruit. 
Dive in: Just up the hill on Sunset Blvd is one of my favorite retreats, the "Pink Palace," otherwise known formally as the Beverly Hills Hotel. The beloved property is slowly unfurling its multi-million dollar facelift, most recently with the renovated pool. New pink striped cabanas, a banana-leaf mural, and an elevated sun deck are a few of the new touches added by the hotel's commissioned designer,Adam Tihany. The complimentary "pop up" refreshments, ranging from Li HingMui pineapple and frozen peanut butter cups, are available daily. Looks like it will be another fabulous summer in LA's favorite little luxury nook.
SIRTAJ
SIRTAJ
Bouchon
Bouchon