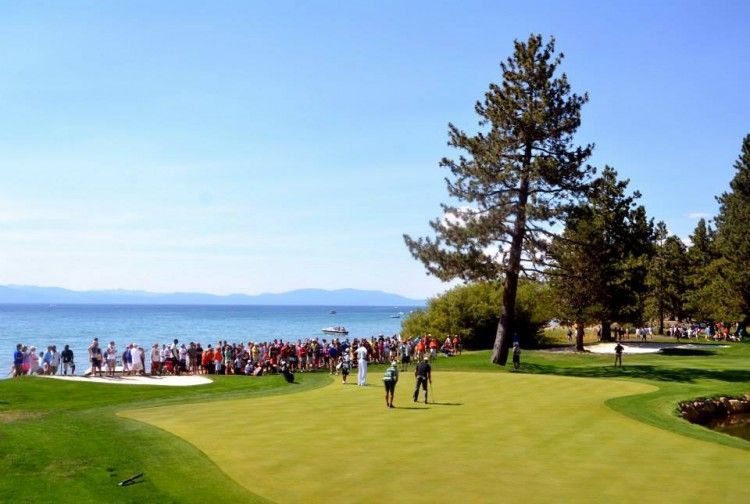 Photo Credit © Sharon Gay
Billy Joe Tolliver Wins 2013 Celeb Golf Tournament at Edgewood Lake Tahoe
By Sharon Gay
Billy Joe Tolliver emerged the winner of the 2013 Lake Tahoe Celebrity Golf Tournament at the stunning Edgewood Country Club, taking home a beautiful Waterford Crystal trophy along with memories to last a lifetime. Tolliver previously won the annual American Century Championship trophy in 1996, 2005 and 2010.
Tolliver defeated Mark Rypien with a par on the third hole of a playoff Sunday afternoon.
The two former NFL quarterbacks finished regulation at Edgewood tied at 67 points in the modified Stableford format that awards graduated points for pars or better.
Arch competitors Tolliver, Rypien, Mulder, Chandler, and Curry all had 67 points after 54 holes of regulation play causing a play-off to determine the tournament winner. In extra holes, each golfer made par-birdie on the par-5 501-yard 18th hole.
On the par-5 18th hole in the playoff, the two had matching pars and birdies on the first two extra holes.
Tolliver got the advantage after Rypien's pitch shot went into the pond, and won with a two-putt par from 25 feet.
"I'm not sure how we got into a playoff," said Tolliver. "I have never been in a playoff like this before. I can't feel my hands right now.
"I guess I played the sympathy card long enough with Rypien that he finally let me have it. I feel bad for Mark because he hit that bad shot at the end. No one wants to win that way," Tolliver continued.
Rypien won the inaugural event in 1990 and came in second in 2012 and 2013.
Former pitcher Mark Mulder was third with 66 points; Golden State Warriors guard Stephen Curry tied for fourth with former NFL quarterback Chris Chandler at 64 points.
"I think I showed I've got what it takes to win here," said Curry after the tournament. "Obviously, it takes a lot to win. A lot has to go right. The more I play, the more comfortable I get. It's a great environment to play golf in."
Rypien led after the opening round on Friday with 27 points.
Last year's champion, Dan Quinn finished with 52 points.
Plan ahead to attend this family-friendly golf tournament next year. The "Super Bowl of Celebrity Sports" at the prestigious Edgewood Lake Tahoe is reportedly the best destination sports vacation in the USA.
2013: July 16-21
2014: July 15-20
2015: July 14-19
2016: July 12-17
Sharon Gay is a luxury travel, sports, and entertainment writer and photojournalist who divides her time between beautiful Lake Tahoe and the Northern California Wine Country.
Photo Credit © Sharon Gay
Billy Joe Tolliver Wins Celeb Golf Tournament