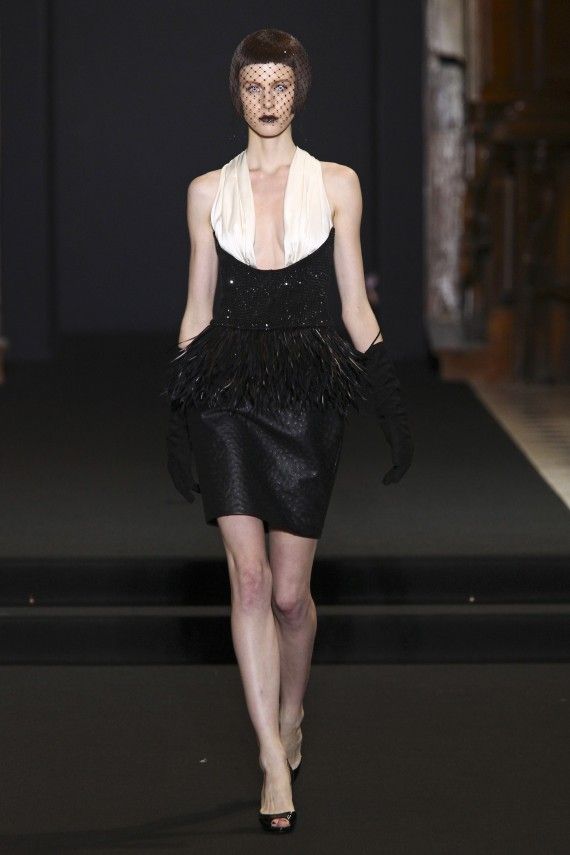 DH
DIDIT HEDIPRASETYO
COUTURE SHOW
"Birds of Paradise"
FALL-WINTER 2012-2013 COLLECTION
WEDNESDAY, JULY 4th,   2012 at 4.30 PM
ORATOIRE DU LOUVRE
145 RUE SAINT HONORE PARIS 1er
By Pikke Allen
Taking place near the Louvre Museum, the Baroque interiors and setting in the Oratorio space was a perfect backdrop for the elegant birds that wandered in.  The show began with a chorus of children singing an anthem from the Choir loft above, setting the tone for the show. Fashion in Paris is more than just a business; it's an art form that is a combination of crafts, showmanship and pure emotions. This show played on our emotions not only with color and texture, but with sound and music that was a spare and interesting backdrop to the rich and jewel-like collection.
The collection "look" was punctuated by the model's hairstyles. Each was wearing shiny helmets of black cropped hair that created an edge for the softer lines of the more baroque shapes. Asian influences such as the kimono jackets, sashes or trains of silken fabric attached to the rear of the mini skirts created the illusion of an exotic and rare creature. The materials used in the collection were sourced in Indonesia: Ostrich skins and unique woven fabrics using traditional techniques. Hand stitched feathers and encrusted jewels were also part of the studied richness of the collection. Features like crow feathers, plumes and black jet beading was combined with shiny surfaces of satin, silks and rich handmade fabrics to finish off the looks that made his conception truly luxe. 
As each model sauntered down the runway, the little "swirls" atop their heads designed by Phillip Treachy added to the rare "bird-like" feeling of the entire show. The Bubble skirt got a total revision, as did the narrow mini skirt created with surfaces of jewels, feathers, leather and satins. There were various over-pieces and kimonos jackets that could also be worn as separates that were trimmed in borders of rich grey and white chinchilla trims and used with abandon. This was the final touch of luxury. My favorite looks also had long leather "opera" length gloves that raised the proportions by creating the allusion of "sleeves" for the bustier. A few elegant men also appeared each wearing parachute style pants and luxury Bermuda shorts with classic velvet jackets adding a manly edge to their baroque styling.
Colors for the Fall/Winter season ranged from a black shade of plum, to a true eggplant with gradations of blacks to subtle deep purples and a hint of forest greens. There was a sprinkling of white mixed in though perhaps not as successfully as the "cr?me" gestures were not strong enough to make them meaningful. "White" used in winter collections needs to be more intentional and not an afterthought. Perhaps Didit realized his groups were too dark in feeling so he was looking for a way to lighten the palette. It is always a welcomed refreshment to have some white; but pieces that are more major in scale and feeling such as a substantial pant, wrap skirt or coat makes the darker colors work through better and they can be used as anchor pieces in a collection made up of darker tones. Perhaps an entire group of cr?me pieces in leathers, or wools punctuated with dark accessory pieces would have been more successful to fill out the collection. Thus, a white coat with a strong sleeve, collar or lining would have been a stylish addition, especially if it was created for the evening looks as a topper. The bustier tops could have used high waisted evening pants in cr?me belted or sashed adding the opera gloves to echo the looks used with his dresses and skirts. 
His collection could have also used skinny leather pants or a newly refreshed side-slit or wrap skirts. These when combined with the sexy bustier or under a coat are a spectacular addition to a winter wardrobe, as they can be worn for work, day or evening. This would have filled in the gaps in the groups for the busy socialite who wants to climb in and out of a limousine from her office to dinner, without missing a beat. There was one outfit that was grey flannel: a pant ensemble with a Kimono style jacket and a grey two-piece evening dress, both a nod to the busy career woman. The pants were lacking in specific shape or design, looking very mannish underneath coat beautifully trimmed in Chinchilla. Perhaps a black skinny ostrich "leather" pant would have worked better. The grey flannel bustier was unfortunate in that its scale was extremely large and did not work well over the long skirt it was paired with because of its proportions. The long skirt however, was a beautiful cut and shape; had it been paired with a gorgeous plum leather bustier and black gloves, in the same woven and swirl design, the look would have been sexier and more spectacular, as it would have hugged the figure and completed his original intention, which was to take a men's fabric and render it into an evening "glamour" sort of reference. I would have also been happy with layers of grey silk chiffon and leathers combined with the grey flannel to add luxury and lightness to his idea, which was a good one and brought it to a more successful completion.
Many of Didit's ideas are spectacular in their beginnings but they simply need additional pieces to complete his thoughts. As a new talent on the scene, DIDIT has the sensibility for knowing what women want as well as a desire to create luxury pieces that are both practical in their shapes and dramatic in their interpretation. He is on his way to becoming one of the next true talents in his use of surfaces, shapes and forms that make his work an exciting to watch. As one of his first collections, it was a spectacular beginning and I am looking forward to seeing where his work will go. 
______________________________
Find more designer brands