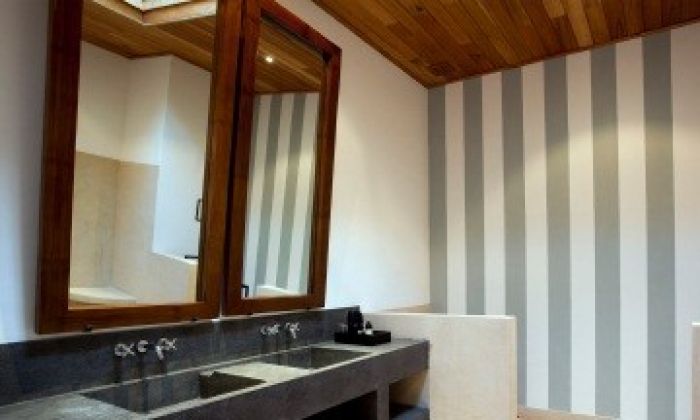 http://www.istockphoto.com
Your bathroom has probably seen better days. The tub surround is dated (who thought baby blue was a good idea?), the showerhead leaks and letís not even talk about what a pain in the neck it is to share a sink and vanity every morning of your life!
Real estate experts point out that updating a bathroom Ė especially a master bathroom Ė can add value to your home in addition to making it a more pleasant place to, um, conduct oneís business. And while some bathrooms can be updated with a simple coat of paint, some new lights and maybe a new faucet or showerhead, some bathrooms need more than just cosmetic updates.
Before you start the major overhaul project, whether itís the large master bathroom or just a 40 square foot guest bath, sit down and make a thought-out plan. Creating a blueprint for such a small room might seem like an unnecessary task, but it will save you time, money and headaches in the long run.
†Why Make a Blueprint?
Consider this: youíre planning a road trip across the country. Youíve never made the trip before and you have a general idea of which direction you need to take, as well as the places youíd like to see along the way and where you want to end up. Do you just get in the car and start driving, hoping that you get where you want to go?
Chances are that you probably donít do that, so why would you treat your remodeling project the same way? If you are completely changing the layout of the room or just moving the vanity or tub around, developing a plan ahead of time keeps you on track and gives you an idea of what to expect along the way.
For example:†say you want to replace your dated old tub and shower combo with a large jetted tub and a separate shower. You could just measure the space, head to the store and buy the materials that catch your eye and hope for the best. But when you get home, donít be surprised when nothing fits or the layout that you thought would work doesnít, because the plumbing doesnít go to that corner of the room or the door wonít open now that the tub is in there.
Blueprinting prevents these types of inconvenient surprises. By taking the measurements of the room, and making note of the location of plumbing and electrical components and windows, doors and other architectural features, you know precisely what you have to work with and can make decisions on fixtures and arrangements that fit within those parameters.
Blueprinting your bathroom remodel also gives you more options. When you look at the room as a blank canvas, you might be inspired to try new arrangements, or add or remove components based on the plan. Sketching out how the new vanity will fit along the wall, for example, might reveal that the 48-inch vanity is just too big and a 36-inch model is a much better option.
How to Make a Blueprint
The simplest way to make a blueprint of your bathroom is to measure all of the walls, windows, and doors and then mark the appropriate spots for plumbing and electrical hookups. However, that method is rather unscientific. With that, there is also a wide margin for error.
You may be better off to make your plan using a computer program. You donít need to have a degree in architecture or understand computer aided drafting to successfully blueprint your bathroom. There are several online and software programs especially for consumers that let you enter your room measurements then drag and drop the items into the room. Some bathroom fixture manufacturers, such as the Australian company Reece, actually offer online simulations that allow you to see exactly how their products would look in your space. You can save and print your plans to make installation easier.
Undertaking any remodeling project is challenging Ė the mess, the stress, the thinks that inevitably go wrong Ė but carefully planning and preparing for your project can ease some of those burdens. Take the time to blueprint your bathroom remodel and soon enough youíll be relaxing in your new tub, wondering what all the fuss was about.
†
This article was written by Ryan Tupper, who is a DIY consultant, plumber and contractor with over ten years of experience.
†