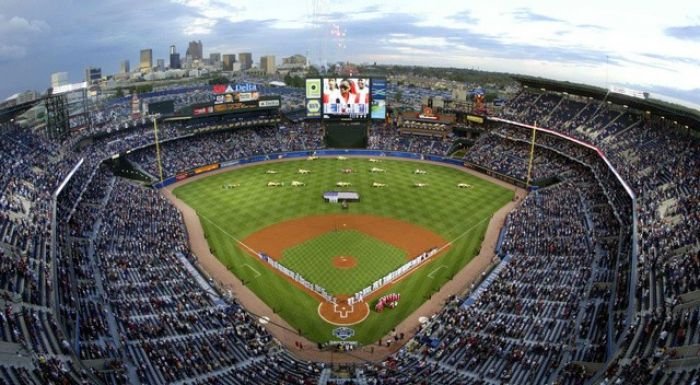 via Deadspin
After being in the city of Atlanta for quite some time, the Atlanta Braves will be leaving Turner Field (and the city altogether) to make their way to Cobb County. Though the move is only about 30 minutes away, there has been passionate debate about the transition.
Mayor Reed addressed the community Tuesday after the Braves announced they will be relocating to Cobb County at the intersection of I-75 and I-285.
"I don't want folks at home to think we were taking the investment in the Atlanta Braves lightly," said Reed. "We weren't all. We wanted the Braves to stay in Atlanta." Read More
According to the Daily Journal, the new stadium would be completed by 2017, and would be built near the intersection of I-75 and 285. That would put it in Cumberland, closer to Marietta than to Atlanta. Team officials confirmed the stadium would be built with some percentage of public funds. (Update: The AJC reports that Cobb County would be responsible for $450 million in financing, with the team kicking in $200 million.) Read More
Plant, an executive vice president of business operations, said the team has not signed a contract with Cobb County but that he's "100 percent certain it will happen." He said talks broke down with the Atlanta Fulton County Recreational Authority earlier this year over an extension of the team's 20-year lease, which expires after the 2016 season.
The news comes as the Atlanta Falcons finalize plans for a $1.2 billion retractable-roof football stadium near downtown, which is also scheduled to open in 2017. Read More