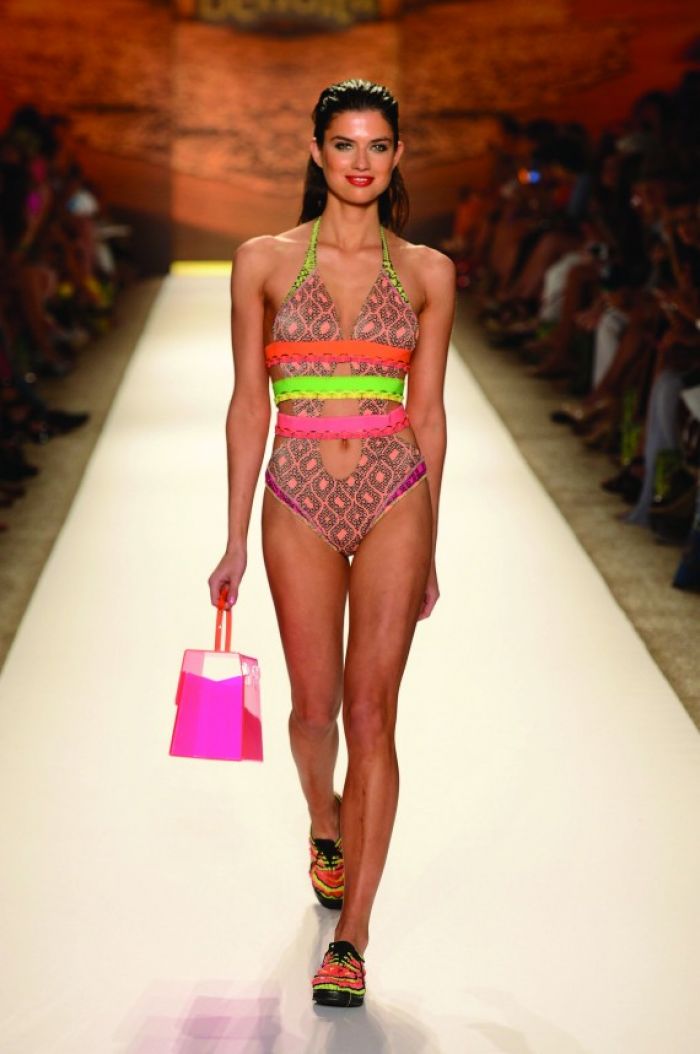 During Mercedes-Benz Fashion Week Swim 2013, the latest styles for the swim resort season were unveiled with Brazilian and Colombian design lines strongly following the bright colored trends.

AGUA BENDITA

Agua Bendita´s collections are known for playful colors, artisan crafting and progressive concepts. The latest collection from the Colombian swimwear company by Catalina Álvarez and Mariana Hinestroza brought the military trend alive in a quasi-political artistic statement on the runway. Other themes of the collection included bright neons in "Glowing Stars" (seen in the picture) with Lycra, silk and cottons and the riding the desert theme with the ever-growing cowboy trend seen previously in Lisa Blue´s collection.

POKO PANO

The trend of vibrant colors and craft detailing continued with Poko Pano by designer Paola Robba. On Friday, July 20, the designer presented a 40-piece collection inspired by Bahia, Brazil with bright oranges, reds and greens. The Brazilian wish bracelet, the "Bonfim ribbon" and the wild hisbicus flowers of the region greatly influenced the prints from the collection.

A.Z. ARAUJO

Another Brazilian swim designer using vibrant colors was A.Z. Aruajo. He presented his collection based on the colors of citrus fruit—oranges, limes and lemons. Mr. Araujo added classic tailored details to the collection. At plain front view, his swimsuits appear modestly conservative with high necks and good coverage, but from the back the cut is totally Brazilian. The complete collection also included well-fitted men´s swimming trunks ranging from briefs with parrots to lemon prints and boardwalk shorts.

CAFFE SWIMWEAR

Like Araujo, the Colombian line by Paula Saavedra, Caffé Swimwear took on a classic take of the bright trend. The designer used a palette of fuschia pink, cobalt blue, tangerine, and bright reds mixed with Asian flower prints adding a tropical twist to the collection. Paula Saavedra finished off the pieces with hand-embroidery for a special crafted touch.