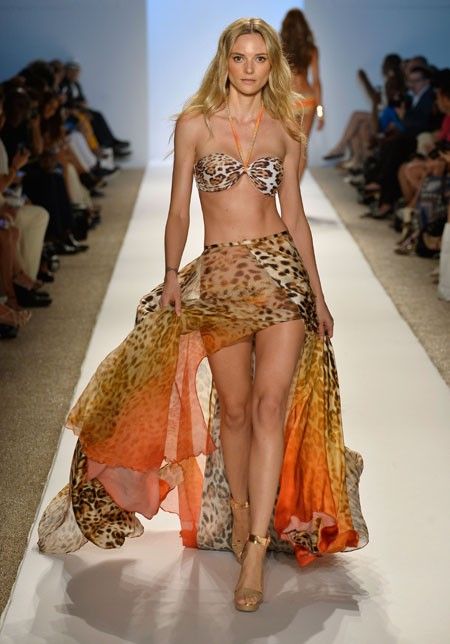 IMG
From jungle prints in Poko Pano to nautical trends in AZ Araujo, one can only imagine the beaches in Rio di Janeiro when watching the latest trends to hit the runway at Mercedes Benz Fashion Week Swim 2014.  Brazilians never shy away from color. 
Poko Pano
The latest collection by Paola Robba pays homage to the myths and legends of Brazil.   The setting was that of a tropical paradise with soft pastels, burnt oranges and turquoise.  The collection also included the addition of wild animal prints.  On trend for this upcoming season, are the cut-out one-piece slimming swimsuits in turquoise.
Vix
Paula Hermanny, the designer of Vix chose the rainforest as the inspiration for her latest collection with dark stem green two-piece swimsuits enhanced with signature gold trimmings, long flowy dresses, and vibrant burnt orange bikinis and bright turquoise.   On trend for this upcoming season, are the tribal prints also seen in mainstream designer pieces such as that of Mara Hoffman.
Cia Maritima
Benny Rosset, the designer of CM Cia Maritima chose the savvy world traveler who packs every bikini she can find as the source of inspiration.  The collection included on trend colors of rainforest greens, burnt orange mixed with wild animal prints and soft turquoises.  On trend for this upcoming season, are ombre solids matched with animal prints.
AZ Araujo
The New York-based swim and resort wear designer, AZ Araujo, brings the nautical look in style for the upcoming season.  His designs range from polka dots with striking cut-outs in two piece bikinis and the use of red as contrast to the nautical blue.  The designer is rather fond of menswear including pieces ranging from boxer shorts in lemon yellow to blue tie-dye print shorts.  On trend for this upcoming season are the cut outs and color blocking contrasting in one piece swimsuits.