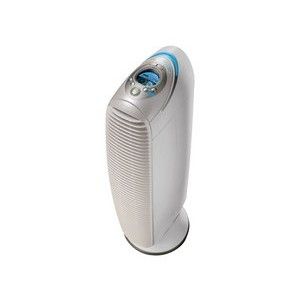 Honeywell
Pollen, sneezing, watery eyes and wheezing. Ahhh, the joys of allergy season, which now seems to be year round for us.
Allergy sufferers and asthmatics now have a reason to breathe easier with Honeywell's True HEPA 5-in-1 Air Purifier (HPA-245). The advanced air cleaning system just might be the quickest and easiest way to get clean filtered air directly into your house.
The quiet system, which circulates the room air five times every hour in a 170 sq. ft. room, kills germs using high powered ultraviolet technology so you can reduce your worries about catching a cold right in your own home. As an allergy sufferer, we love how this unit captures up to 99.97% of visible airborne particles, including dust, pet fur (no, the dog is not going to go) and pollen, from the air that passes through the filters (you can even see the buildup). Speaking of dogs, this unit is also designed to reduce odors (wet dog not included).
While you can see the dust and pollen particles being picked up by the purifier, the oscillating system also captures microscopic particles and allergens that you can't see but will immediately feel when breathing in a clean air room. When it is time to clean the filter, a check filter indicator comes on notifying you. (The permanent washable filter is easy to remove and clean).
This air purifier also offers 12 cleaning power levels so you can select the best sound and cleaning level. The unit retails for $249.99 and is well worth the investment for a healthier breathing environment. For more information, visit www.honeywell.com.