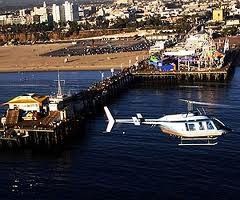 How many ways have you ever tried to discover all the sights in Los Angeles? By car, by train, by bus? How about from the air. Los Angeles is over 400 square miles of territory to try and cover in any one visit. Imagine flying over the cities specatular ocean, mountain, and land areas. What a fabulous way to get all those pictures you wanted when starting your trip.
There are several companies in Los Angeles that you can contact to set up your tour of the cities and beautiful coast lines. Their guides know where all the best places are to make the most out of your day so you can catch those memories on camera. If your not the best photographer and you need a little help, they may be able to supply you with a professional photographer to snap those memories for you.
Imagine getting a birds eye view of Hollywood and Beverly Hills, swooping over the enormous, spectacular celebrity mansions. Looking for that romantic "evening" skyline? You might prefer an evening flight with the possibility of a romantic dinner that would be scheduled for you. Depending on what you are specifically looking for, there are numerous companies that offer a variety of different packages. From such a large selection of companies your sure to find one that will send you on a thrill of a lifetime!
You might also be interested in:
Los Angeles County Arboretum and Botanical Garden
anothersidtours.com