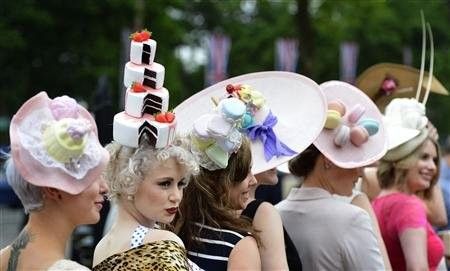 Image courtesy Reuters
For every occasion, there is a dress, but not every dress works for the occasion. At what is perhaps the pinnacle of high fashion, the grandstands of the Royal Ascot, the rules get regal and the dresses get long indeed. Those who know how to look, however, will see buried within all that formality a broiling pot of style and statement.
Big hats and fancy frocks are an integral part of Royal Ascot and organizers of Britain's glamorous racehorse meeting want to keep it that way by charging for fashion failures this year.
Royal Ascot, a 300-year-old highlight of Britain's social calendar attended by Queen Elizabeth and other royals, has taken a stand against shrinking skirts and novelty outfits, issuing strict guidelines about what to wear to the five-day event.
In the Grandstand, where tickets start from 43 pounds ($65), the rules stipulate no strapless dresses or bare midriffs for women and no branded clothing or fancy dress while skirts must be a "modest" length and men need a shirt and tie. (Read More)