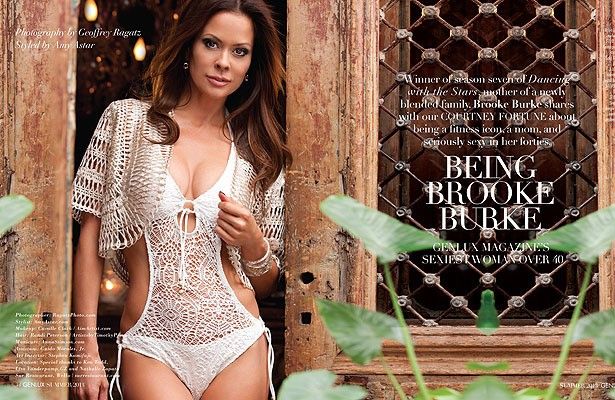 Image via extratv.com
I don't know what this is. I don't know who made it. I do know that they must be found, locked in a room, and forced to produce more such gorgeous styles for the rest of eternity. Burke Charvet has never looked better than when she appeared in this lacy fashion sensation, and someone has to make sure this becomes a new style.
"Dancing with the Stars" host Brooke Burke Charvet has had a rough year, undergoing surgery to remove thyroid cancer, but you wouldn't know it in her recent photo shoot for Genlux magazine at Sur Restaurant in West Hollywood.
The mother of four modeled a range of outfits for the magazine, including a white crocheted monokini, and looked radiant.
Burke Charvet has recently focused on promoting good health since her cancer diagnosis. She told Health magazine in April, "I was already eating healthy. But it really confirms how good I feel when I work out." (Read More)