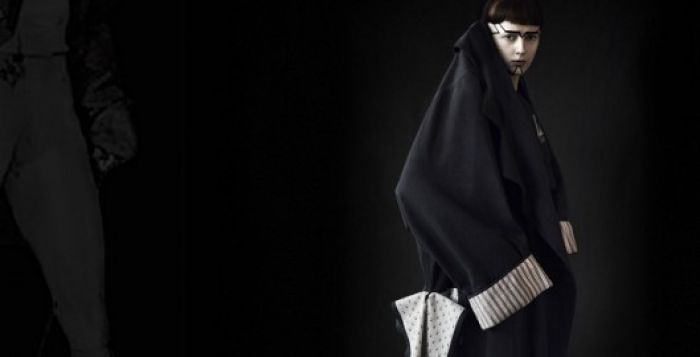 Daphne Guinness famously said, "We need better things, not more. We shouldn't pollute the world with meaningless, unused things when we can make and support things of rare and precious beauty." Thanks to Byronesque, edgy and avant-garde fashion fanatics have all the more reasons to love vintage.
Byronesque (adj.): Reminiscent of the works of George Gordon Byron, typified by gloomy Romantic themes and passionate, arrogant, and self-destructive heroes. – Wiktionary
With a fierce aversion toward fakes and fast fashion knock-offs, Byronesque is the first online marketplace combining editorial and e-commerce components dedicated to authentic designer vintage fashion that's dark, sexy, and provocative.
"True vintage is 20 years or older," CJ Swanton, managing editor at Byronesque, tells me. "Every piece available on the site has been around for at least two decades, and we're very specific and meticulous with what we decide to offer our customers."
Make no mistake – even though all of the items on Byronesque are true vintage, their designs are by no means old-fashioned. The creations, many by daring and uncompromising labels and designers the likes of Issey Miyake, Thierry Mugler, Yohji Yamamoto, Jean Paul Gaultier, and Vivienne Westwood, are considered progressive even according to today's standard. They're creations that inspire us as much as they did our parents and grandparents.
So don't be surprised if you can't find any Herm?s bags on Byronesque, as the people behind the site advocate edgy subculture styles and promote individualism and independent thinking. Their message: Don't look like everyone else. Don't be an anonymity in today's disposable fashion. Don't be The Common Herd.
Swanton's Vintage Obsession
Each item on Byronesque has its own story and history. Among the extraordinary vintage finds, Swanton's favorite article comes from Westwood's third collection, Buffalo (Autumn/Winter 1982–83), also called Nostalgia of Mud. "I'm obsessed with the Vivienne Westwood mud dress," Swanton gushes. "This piece is truly a collectable."
"Westwood exhorted her fans to 'Take your mother's old brassiere and wear it undisguised over your school jumper and have a muddy face.'
"The woman has always been a total genius and a bit of a shit-disturber…very Byronesque indeed."
Byronesque Grabs You by the Balls with Editorial
Through Swanton's tell-it-like-it-is attitude, you might've already gained a sense of Byronesque's editorial persona. They don't hold back their tone nor do they hold back their approach to vintage culture and style. Expect F-words throughout the site. "Our editorial voice is very opinionated," Swanton stresses. "And we hope to grab our readers by the balls and pull them along on the journey with us."
"Our editorial voice is very opinionated. And we hope to grab our readers by the balls and pull them along on the journey with us."
Rather than blindly chasing the same stories or the same trending topics that bombard our social-networking feeds, Byronesque creates intelligent and visually compelling content that features cultural influencers the likes of Boy George, Simon Collins, and Diane Pernet – content that aims to inspire readers' imaginations, explains Swanton. "This is not about spoon-feeding our audience from some history book," he says. "It should be about a sense of discovery."
Discover Rare Vintage Pieces Through Byronesque
You'll experience a sense of discovery not only from within Byronesque's editorial content but also among the gamut of rare designer pieces sold through the site:Renee Bejil, head of merchandise at Byronesque, sources high-end, one-of-a-kind vintage pieces from a global network of prestigious vintage boutiques and private showrooms, pieces that you mightn't know existed even if you're a hardcore vintage expert.
Swanton notes, "We work with [our network of vintage retailers and showrooms] to curate the pieces that eventually end up on Byronesque.com, and we shoot every garment in-house to maintain the cohesive aesthetic of the site."
Top 3 Mistakes People Make When Buying Vintage
Coveted vintage garments don't come cheap – you already know that. Yes, you can find wallet-friendly items that cost only a couple hundred US dollars on Byronesque, but many truly unique and highly collectible finds can easily command thousands. And I doubt vintage shopaholics will stop at just one.
If you were to splurge on these investment pieces, you might as well get the best bang for your buck and take note of what Swanton has to say. Here, he points out the top three mistakes people make when buying vintage:
"#1. They buy the same boring Chanel or Kelly bags that everyone else has. Come on, people. Get some originality. Haven't we seen enough quilted handbags?!
"#2. They wear head-to-toe vintage and end up looking like they're from some dusty period drama. Mix it up, people. We never condone a full vintage look at Byronesque. Combine cool contemporary pieces with precious vintage finds for a look that's undeniably modern.
"#3. They don't do their research. There are a lot of fakes out there, and it's easy to get burned buying something from sites like ebay. Authenticate the pieces. Great vintage should have a story. The more they know about the history of a specific piece, the better."
Of course, you don't have to worry about authenticity if you do your vintage-treasure hunting on Byronesque, where every piece is carefully selected by vintage experts. And should you need assistance, you can always tap the site's personal shopping option to help you purchase with confidence.
One thing I'm sure – the pieces you bought from Byronesque will transcend time and continue to live on for years to come. Vintage never gets old; at Byronesque, it's even futuristic.
Backed by fashion heavyweight Andrew Rosen and prominent retail consulting firm Marvin Traub Associates, Byronesque has an aggressive plan to increase merchandise through retailer partnerships. Keep an eye for new obsessions and additions on the site.
Yohji Yamamoto Deconstructed Polyester Top, 1987-90
Vivienne Westwood and Malcolm McLaren Cotton Dress ? ?Nostaligia of Mud (Buffalo)? Collection, 1982
Editorial: Rare Pieces from John Galliano?s Graduate Collection
Claude Montana Leather Cuff, 1980s
Cotton Fascinator with Extra-Long Tassel, Late 1930s
Yohji Yamamoto Oversized Shredded Leather Bag, 1990