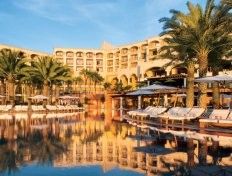 Hilton Resorts
With a full industry built around tourism and hotels, Cabo San Lucas often has a lot of movement occurring with hotel expansions and acquisitions. Here is some of the latest news coming out of the beautiful Mexican getaway.
MetLife, Inc. and Thayer Lodging Group have acquired the 365-room Hilton Los Cabos Beach & Golf Resort in Cabo San Lucas, Mexico in a joint venture.
The partnership purchased the luxury resort from Oasis Cabo LLC. The purchase price was not disclosed. MetLife is the majority investor in the joint venture with Thayer Fund VI.
"MetLife is pleased to add the Hilton Los Cabos Beach & Golf Resort to our portfolio of hotel properties in Mexico," said Robert Merck, senior managing director and global head of real estate investments for MetLife. "Our long term investment strategy focuses on attractive opportunities in the U.S. and internationally, as we continue to seek top quality properties in major global markets in 2013. We highly value our relationship with the Thayer Lodging Group and look forward to continuing this partnership in the future." Read More
Choosing a vacation destination can be challenging, but vacation-goers need look no further than Del Mar Escapes for rest and relaxation under the sun. Del Mar Escapes is a gorgeous resort in Cabo San Lucas, located on the Pacific Coast of the Baja Peninsula in Mexico. It provides travelers with a convenient yet exotic location, spectacular scenery and ample recreational and cultural activities. While choosing a great destination to visit is challenging, it is imperative to select the right resort for a vacation. Del Mar Escapes is the premier choice amongst travelers to Cabo San Lucas resorts, and there are several good reasons for this. The newly updated villas available through Del Mar Escapes will impress even the most discerning travelers. Read More
Top Sportfishing Resort Cabo San Lucas, Marina Fiesta, has shaped the industry of Cabo hospitality by providing amazing vacation packages that travelers can really appreciate. When booking trips, travelers often complain that they are sick of going on the same old vacation and only switching up the location, but with Marina, boring vacations are a thing of the past. This resort knows what their guests really want and has come up with an amazing sport-fishing package to spice up any vacation experience
Marina Fiesta posted many new travel deals this week, and the one that has received the most interest is the "Fishing and Golden All Inclusive Package." Guests that are interested in this package can receive nightly rates for as little as $349 dollars a night and receive a day of fishing as a bonus. Not only do travelers get to go out on the water and try their luck hooking Marlin, but they also get to take advantage of the all-inclusive plan at all the restaurants on location. Marina Fiesta is different from most resorts, because they do not restrict guests to eat at certain locations, which gives travelers variety while they are dining on vacation. Read More