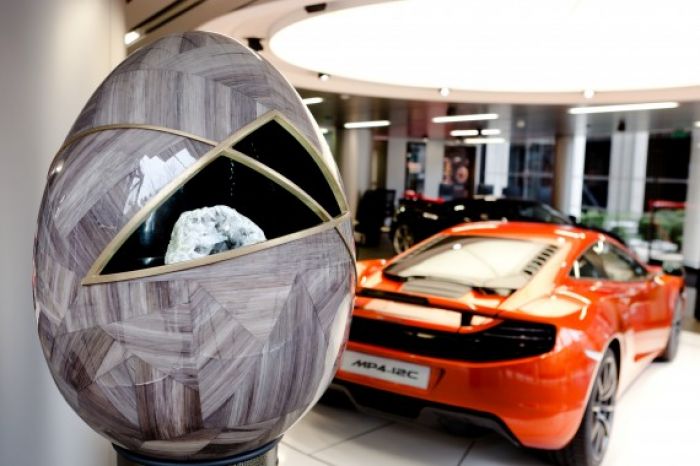 Luxury interior designers Candy & Candy are one of over 200 globally renowned designers and personalities who have created a bespoke designed Easter Egg for The Fabergé Big Egg Hunt 2012.
Set to become the world's biggest ever Easter egg hunt, The Fabergé Big Egg Hunt – which launched on Tuesday 21st February – aims to raise up to £2 million for leading children's charity, Action for Children, and Elephant Family – the UK's biggest funder of the endangered Asian elephant.
Over 200 fibreglass eggs, each measuring two-and-a-half foot in height, have been uniquely crafted and decorated by some of the world's leading artists, architects, jewellers and designers including Vivienne Westwood, the Chapman Brothers, Zandra Rhodes, Diane Von Furstenberg, Sophie Dahl, Rob Ryan, and Polly Morgan.
The Candy & Candy egg, which is located in the McLaren London supercar showroom in Knightsbridge, is an exquisite work of art with attention focused on combining beautiful, luxurious and unusual materials with the finest craftsmanship to create a unique sculpture.
The exterior is finished in a Green Blade Bahamas timber veneer with a high gloss decorative pattern. A geometric crack in the front of the egg reveals a beautifully lit Celestite crystal positioned on a mirrored plinth inside the egg, surrounded by a high gloss black lacquer interior shell. The Candy & Candy design team employed the specialist help of joinery firm EE Smith to bring the egg design to life. London fossil and mineral gallery Dale Rogers Ammonite also kindly donated the Celestite crystal for the piece. 
All of the eggs, which are destined to become highly collectible works of art, are available to buy once the hunt is over at three specially arranged auctions.
Nick Candy, CEO of Candy & Candy commented: "The Fabergé Big Egg Hunt is a fun and innovative fundraising event which will engage people across London and raise vital funds for two great causes. The team at Candy & Candy are delighted to be able to contribute to making this event a huge success - I like the design of the egg so much that I plan to be in the front row bidding at the auction!"
Members of the public are being encouraged to take part in the massive Easter egg hunt across central London. All 200 eggs have been strategically placed throughout the capital and entrants have the 40 days and 40 nights of Lent to hunt down as many eggs as possible. The Fabergé Big Egg Hunt is also looking to achieve a Guinness World Record for the biggest ever Easter egg hunt.
For more information on The Fabergé Big Egg Hunt please visit www.thebigegghunt.co.uk.