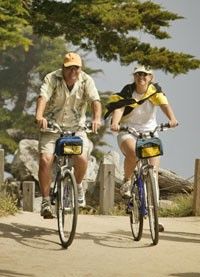 adventuresbythesea.com
Not one of those people who like to sit back sipping a good glass of wine or watching the sunset? There's so much more to do in Carmel than meets the eye. If your looking to enjoy a variety of outdoor activities you really should check out "Adventures By The Sea" located in Carmel. They offer a wide range of sporting activites that will suite the entire family.
Choose between land or water actvities. Kayaking with tours, biking, stand-up paddling, and surrey rentals are all available. For larger groups there are plenty of events and activites for you too. From team building events, beach olympics, scavenger hunts and more. Spend the day with your friends or family and enjoy a day of healthy competition.
Enjoy all Monterey Peninsual with areas that include Cannery Row, Lover's Beach, Pebble Beach and more. If you want to take home a little piece of your trip, used bikes are also available for purchase depending upon what's available at the time.
You may also be interested in:
Pebble Beach's Cypress Point Golf Club
adventuresbythesea.com