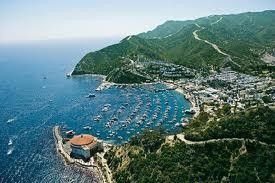 tripadvisor.com
Living in today's world, everything seems to be so fast past an hechtic. Wouldn't it be nice to live on an island even just for a day? Well look no further. If you need a romantic getaway, quality time with the kids, or just a little quiet time, Catalina Island is a spectacular venue to do just that. Kid friendly, the island offers "family fun" things to do. Parasailing, ghost tours, bike rentals, hiking, scavenger hunts are just a few of the many things you and your kids might like to partake in.
If the trip is going to be more of a romantic getaway then again, it's the perfect place to visit. With moonlight strolls down on the beach or a casual boat cruise across the water, it will set the mood for your special time together. It's a perfect wedding venue for those of you looking for something extra special.
There are a variety of restaurants to choose from during your stay. From fast food to fine dining the choices are fabulous. Nightlife entertainment is abundant. Each venue is constantly changing their entertainment so you'll always have a good selection of music and entertainment to choose from.
There are so many things to do here that it is hard to mention them all. Be sure to check their list of things to do so you don't miss out on any activities. While your there be sure you check out the historic Avalon Theater in all it's majestic glory. If you enjoy playing golf you'll enjoy the spectacular views the local course. There are few ways to stay on the island. From camping sites, bed and breakfast, condos, or beach front hotels, the island has that perfect spot.
You might also be interested in:
tripadvisor.com
destinationbranding.com