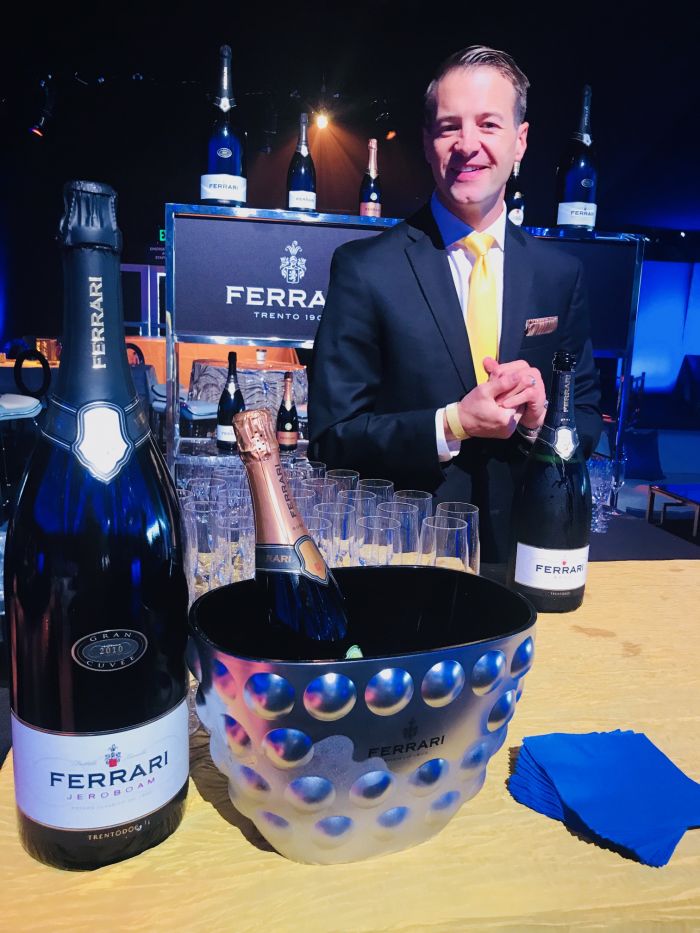 Jill Weinlein
This year's Emmy Awards Governors Ball produced by Cheryl Cecchetto of Sequoia Productions is decorated with almost 29,000 LED lights hanging from the ceiling to add thousands of twinkling stars to Hollywood's night sky upon the L.A. Live Event Deck.
Nominees, presenters and guests will receive a flute of Ferrari Trento sparkling wine to celebrate and toast this special evening. As the official sparkling wine of Emmy season, Ferrari Trento was crowned the 2017 sparkling wine producer of the year at the Champagne & Sparkling Wine World Championships. Guests will sip Blanc de Blancs, the Ferrari Brut NV Trentodoc sparkling wine during the largest Emmy Party in 2018. Stepping inside the party, guests will clink glasses to the special evening with a choice of bubbly that includes Ferrari Perle, Perle Rose' and the elegant Giulio Ferrari Riserva del Fondatore.
Adding to the glamour of television's most star-studded dinner, Chef and Founder Joachim Splichal and Patina Catering, along with VP of Culinary Gregg Wiele and Patina Catering Executive Chef Alec Lestr prepare some of the Michelin-starred restaurant Patina and the beloved L.A. Steakhouse Nick & Stef's favorite dishes. There is a lavish array of chef-driven small plates enhanced with summer truffles, hand-carved flat iron steak with red wine Bordelaise and comfort dishes such as Patina's gooey grilled cheese with heirloom tomato soup. Over 8,300 guests will be served over three nights, first with the Creative Arts Governors Ball (September 8 & 9) and the Governors Ball (September 17).
Desserts by Patina Catering Executive Pastry Chef Frania Mendivil and her team are a decadent spread of confections and pastries that range from hazelnut chocolate feuilletine, strawberry rhubarb tart, mini Mason jars of Harry's Berries strawberry shortcake and a vegan coconut chia seed tapioca.
All of these culinary delights will be paired with Napa Valley winery Sterling Vineyards four wines. Guests of the Governors Ball will be one of the first to taste the soon-to-launch Sterling Vineyards Platinum Cabernet Sauvignon. The evening's winners will be treated to a glass of the winery's flagship Sterling Vineyard Iridium Cabernet Sauvignon, while waiting for their Emmy Statuettes being personalized in the Emmy Winner's Circle. They will also be gifted a bottle of this exclusive wine of which less than 1,200 bottles are made.
For another sweet treat, Lindt Chocolate USA makes its Emmy Awards debut this year as the official chocolate confectionery of the Television Academy. The Emmy Awards Green Room is renamed the Lindt Chocolate Lounge. At the Governors Ball, winners and guests may unwrap the brightly colored delicate chocolate to reveal a chocolate shell that envelops pleasing smooth chocolate truffle inside.
The 70th Emmy Awards will telecast live from the Microsoft Theater in Los Angeles on Monday, September 17 at 8 p.m. ET and 5 p.m. PT. SNL's Colin Jost and Michael Che, "Weekend Update" anchors will co-host.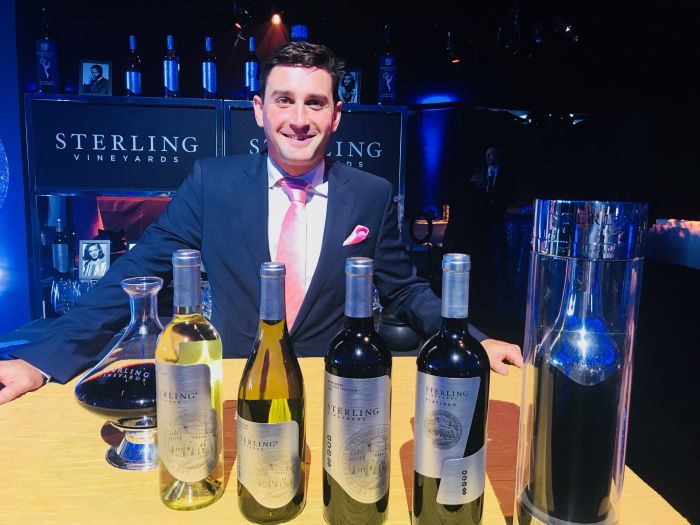 Jill Weinlein
Sterling Vineyards will be pouring approximately 11,300 glasses of wine all three nights.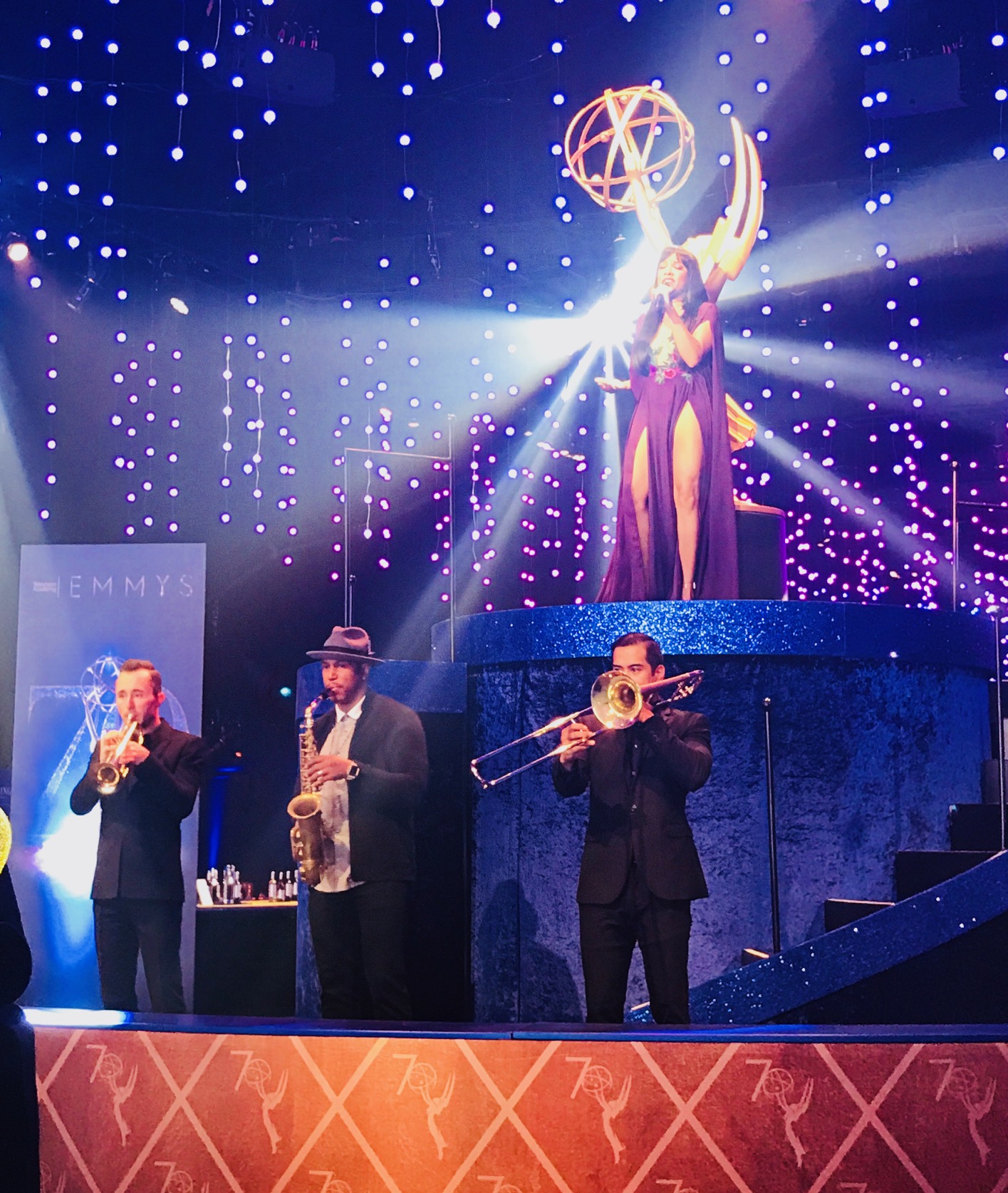 Jill Weinlein
THe Emmy Awards is one of the most celebratory nights in Los Angeles.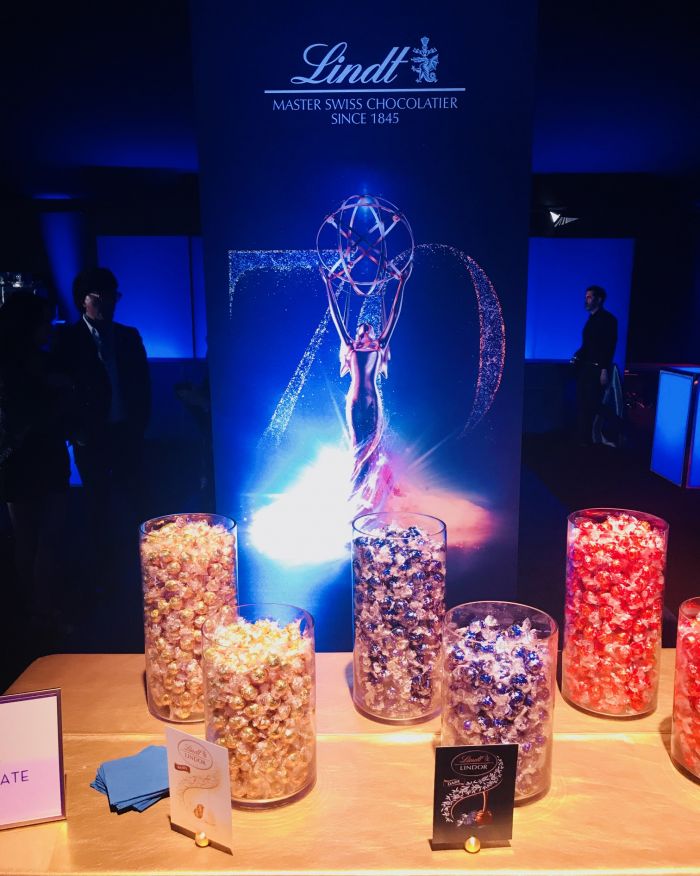 Jill Weinlein
Lindt Chocolate USA makes its debut as the official chocolate confestionery of the Emmy Awards.