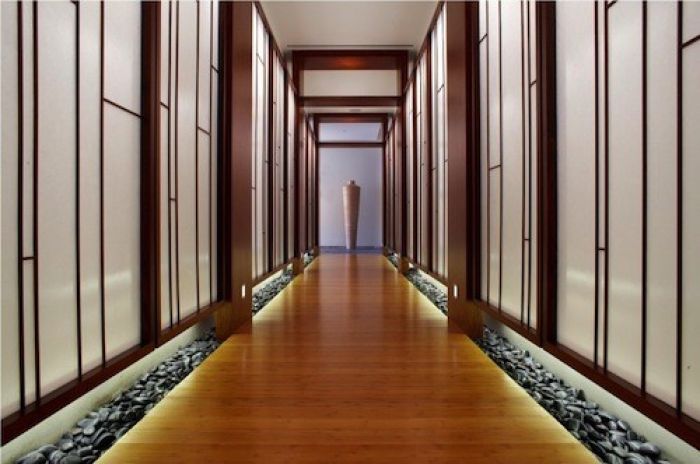 Courtesy Westing Riverfront
As you may expect, Spa Anjali at the Westin Riverfront Hotel and Spa is impressive. The upscale facility is complete steam rooms, changing areas, a full-service salon and
14 treatment rooms where you can sign up for everything from an Oxygen Boost Facial Deluxe to a Rocky Mountain Sports Massage. No matter the treatment, rest assured the spa only uses organic products, which is one reason Spa Anjali is Colorado's first green spa. "We are very mindful about the companies we use and making sure they practice sustainability," says spa director Erin Sehnal.
Always looking for the most current offerings, the spa offers a menu that highlights innovative treatments. One of those is the Kundalani Back Treatment, which is everything a gal could imagine. The treatment begins with a foot soak in Himalayan bath salts to remove negative ions. After lying down on a heated bed, the treatment combines a gentle massage and decadent oil combinations to the tunes of comforting music. The goal is to awaken and relax the nervous system. The result? A deep relaxation that instead of zapping energy, adds an extra bounce to your step.
Another reason the spa is tops- it's the only spa in North America to offer Chakra Blessings. The treatments restore balance, energy and clear negativity to restore a feeling
of wholeness.
Recent Awards: #8 from Conde Nast Reader's Choice Top 100 US Resort Spas, also Top Ten Green Spas from Organic Spa Magazine.
Three Chakra Treatments Offered:
1. Down to Earth Blessing- Muladhara – the root chakra – 100 min.
Combines a foot wash, frankincense smoke, Tibetan singing bowls and a slow, relaxing massage with grounding oils to relieve stress.
2. Shine from Within Blessing – Manipura – the naval chakra-100 min
Combines a detoxifying foot and body scrub, bio-energy mud wrap, marma point massage, lymphatic drainage and Himalayan poultices to restore energy.
3. Peace of Mind Blessing – Ajna – the third-eye – 90 min.
Combines a soak, pouring of warm oil, a marma point massage and warm stream of oil over the forehead for detoxification.