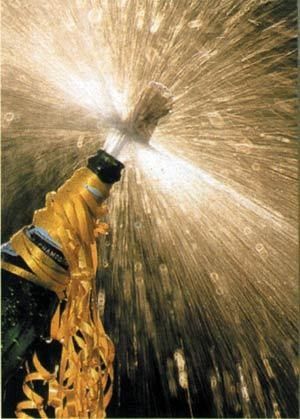 The city that never sleeps has found a new love of Champagning.
May 14th, 2012 was the launch of the STK Magnum Monday Dinner Party, by The One Group at the midtown location. Already receiving hype from outlets like Black Book Magazine as well as other media and the NYC social scene, the concept that was imported from Las Vegas, completes the lineup of weekly New York City Champagning events. Every Monday a new modeling agency will be hosting -starting with Click Models this week. Dinner will concede as usual...not so usual will be the extravagant NYC nightlife touch: gorgeous faces straight off the runway, dancers, magnums of top-shelf liquor and world-class beats from some of New York City's best DJ's.
Champagning! events have taken over New York City since their inception at the beginning of this year by Status Luxury Lifestyle Management's owner Nick Andreottola and his partner Nicole Rose Stillings. Both nightlife and media impresarios started the events due to their love of Champagne and social connections.
Wednesday's midtown event at the Dream Hotel on 55th Street is more of an intimate fashion & networking cocktail party, with food served from Serafina starting at 6:30pm and ending at midnight.
Thursday downtown at Villa Pacri leans more toward an energetic dinner party with a full menu, rated 24 by Zagat.
Nick Andreottola, who is the owner and operator of Status Luxury Lifestyle Management (SLLM), founded Champagning. He has worked with some of the most prestigious clients since 2005 in New York, Miami, Las Vegas, LA, London, St. Tropez and more. SLLM has successfully executed events for brands such as DuPont Registry, Iconic Motors, Manhattan Motorcars, Chopard, Perrier-Jouet, Stoli Elit, Social Life Magazine and more. Most recent notable events have been "Celebrate Your STATUS" holiday event in December 2011 with Petra Nemcova's Happy Hearts Fund at Gansevoort Park Hotel and the second annual "Intimate evening with Roger Sanchez" at the Setai in Miami Beach on March 22nd.
For reservations please email: MM@StatusVIPServices.com
For updates & info: Champagning.net.